Rice Harvest in Nepal
Early in the morning we started with 10 volunteers climbing onto an old fashioned school bus from our Himalayan Encounters bus stop to harvest rice just beyond the township of Pame. The rice had already been cut and was in a great pile where it waited for us.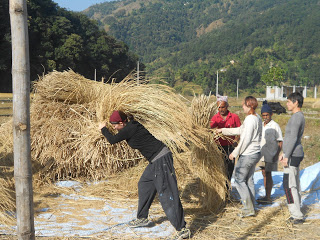 Trying to thrash the pile of rice that had been awaiting us.
After a great greeting of "Namaste" the farmers showed us how to work.  At first we had to hit a little piece of wood with a bunch of rice stems to shake the rice off.  That was really hard work!  It is not possible to get all the rice off with this method so afterwards we put all of the straw (or stems) in a pile where three ox could walk the rest of the rice out.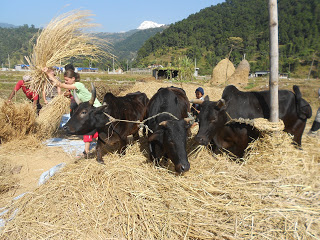 The ox on duty
Than we had to clean the rice using the wind we produced with special wooden trays. After some hours we got tyred as well as ready for an amazing field dhal bhaat prepared by the farmer's wife, which we ate in the traditional way – with our (right!) hand.
Because only Dhal bhaat gives us power for 24 hours!   😉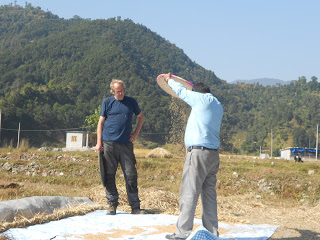 Cleaning the rice
To spend a day with the rice farmers showed us how difficult it is for the people to produce rice.
In an industrial nation a big harvest machine would do the work we did in one day in only five minutes!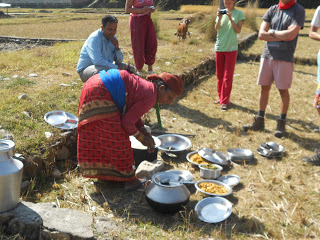 Dhal bhaat being prepared in the field
By volunteer Onno


Subscribe to our Blog
GVI on Instagram
Sorry:

- Instagram feed not found.
GVI on Facebook