By Milanie Bekker - Community Project Coordinator
4 years ago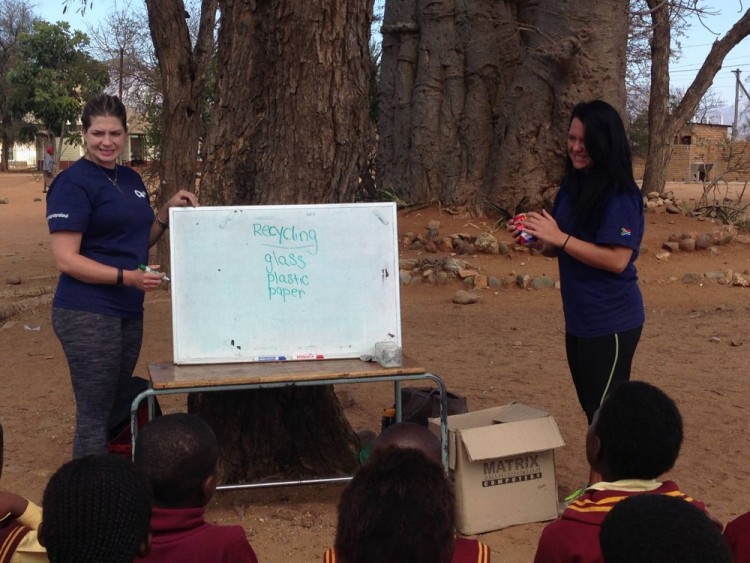 Over the past year, at Diphuti Primary School, we have covered many topics. Anything from opposites, to my family, to colours, to animals. The one topic that we covered most recently, is probably the most important, RECYCLING.
Being in a rural area, like we are at our GVI Karongwe base, recycling isn't the easiest thing to do. Only a number of recycling stations can be found in the area. Most of these are only accessible by car. This obviously poses a problem for most of the people in the community of the Oaks, the closest community to Karongwe.
We thought it best to start small with the kids at the school. Our volunteers went on a treasure hunt (of sorts) in the Karongwe recycling station bins. They found suitable and very obvious examples of the most common waste to recycle, and packed it in a box, and off we went to school.
At first the kids didn't quite understand why we brought our trash with us to their school. We very quickly cleared up any confusion when we challenged the 4th graders to pick up more trash around the school than the 5th graders.  And the game was on. Kids were running around in a flurry (a quiet flurry, since they were all sworn to silence by GVI staff) to pick up the trash around the schoolyard. It was a close call between 4th and 5th graders every single time. Nothing like a bit of healthy competition to get kids excited about picking up trash. By the end of the day the school was trash free.
We were extremely proud of the kids, and ourselves, for cleaning the schoolyard up. We know that they're not immediately going to change their ways, but we will be persistent and we will lead by example.
Fridays will now be known as "Recycle Friday".