Recipe for a Successful Children's Paradise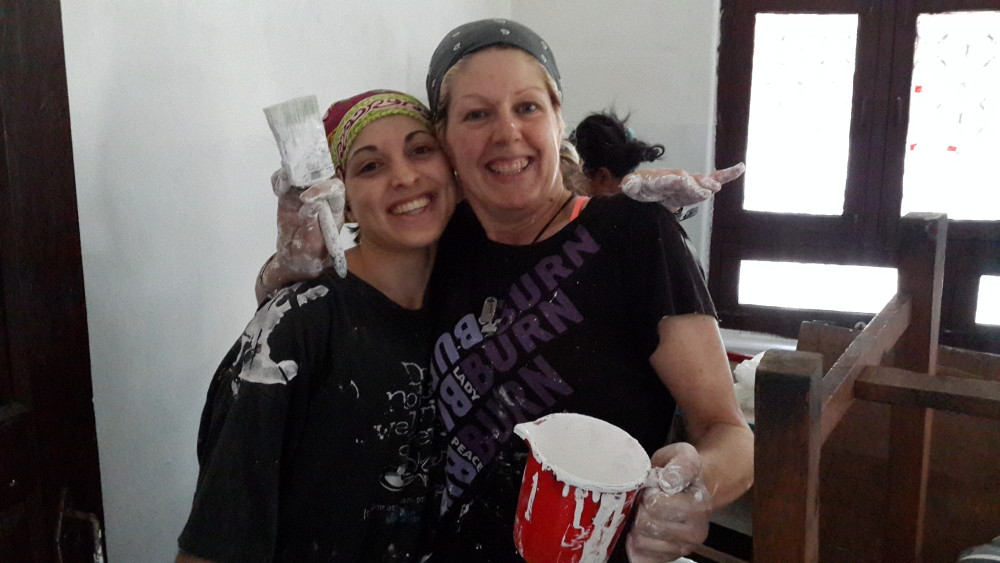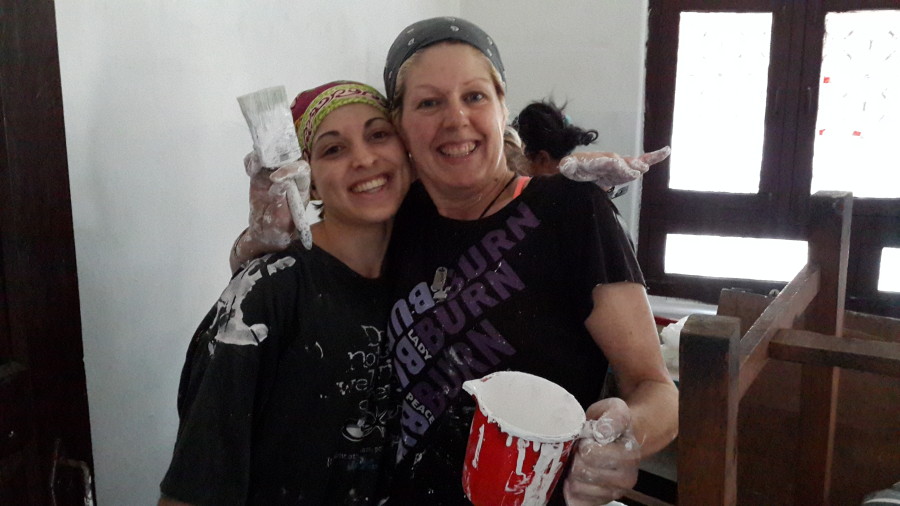 Ingredients:-
Two amazing parent-teachers seasoned with a generous amount of faith, care, and fuelled by a dream for children's wellbeing (i.e. Bunti and Sandeep)
Two GVI staff members, marinated in the Nepalese experience mixture (Ruth and Adele)
A good smattering of GVI volunteers with a healthy variety of skilled (Dee) and unskilled (me) workers fuelled by a healthy dose of fresh enthusiasm
 A sprinkle of hard-working Nepalese volunteer children (in this case, Bunti and Sandeep's lovely children)
Lastly, but most importantly of all, a big bunch of kids to enjoy it!
Okay so I may have overegged (if you'll pardon the terrible pun!) the recipe analogy somewhat, but at the time of writing, I have just spent several hours following the GVI Nepal homestay supermum's recipe for momos and pokhoras, and consequently have food on the brain. But that's a story for another time.
For now, I would like to tell you about the exciting progress in Children's Paradise, a preschool with a tolerance-inspiring mixture of disabled and non-disabled kids. It is in central Pokhara, Nepal, and as you will have gathered, it is run by Bunti and Sandeep – an amazing local couple with values and ideas that seem streets ahead of much of Nepalese society. Children's Paradise still has a long way to go before it can attain the facilities and standards of Bunti and Sandeep's dream, but with the support of GVI and its volunteers, (of which number I feel honoured to count myself), we hope to help Children's Paradise live up to its name.
Even though I have only been here working on it for two weeks, the progress we have made in that time is quite astonishing, thanks to all of the 'ingredients' mentioned above! And it must be said, the before and after pictures are quite something to behold.
"So what have you actually done?!" I hear hundreds of probably non-existent readers cry. We have taken four dusty, plain, fairly gloomy rooms and filled them with vivid, themed murals and stimulating educational aids. The mural themes were: jungle, 'The cow jumped over the moon' riddle, underwater, and sensory. The aids include a colourful painted alphabet and numbers, and a vast range of decorated textures on the walls of the sensory room, such as cute furry noses on butterflies; such features will not only give the kids something fun and interactive to play with, but will teach them fine motor skills in a relaxing environment. As well as making steps towards encouraging learning, we have tried to make these four rooms as fun and engaging as we could; a DIY glow-in-the-dark universe mobile tops off the riddle theme in the sleep room, Gina the giraffe is just one of the many characterful animals populating the jungle toddler's room, and the sensory room also sports a quiet corner where the children (or perhaps stressed adult teachers, who knows?!) can envelop themselves in an enclosed space of purple curtains.
As if all of this wasn't enough to make the undemanding pupils at Children's Paradise excited about school, brand new carpets have been put in, and Bunti and Sandeep's own brood repainted all of the shelving units with fresh blues and greens. Once we had cleaned the school toys, stationery and books, and re-equipped the rooms, they looked by far the most exciting classrooms I had ever been in, and totally unrecognisable from our first pictures of them.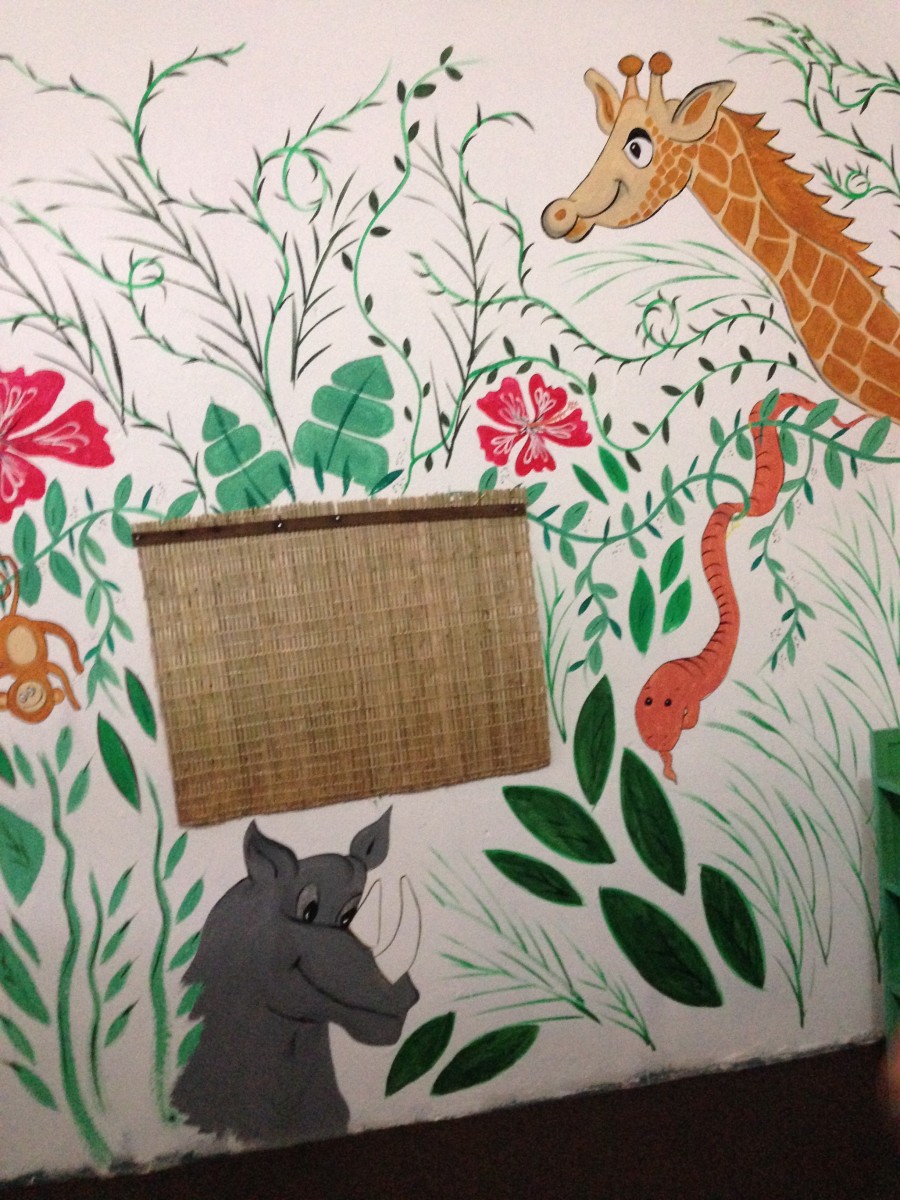 But the important thing, the most rewarding sight to witness as a volunteer here in Pokhara, has been Bunti, Sandeep, and finally all of their pupils' faces light up when they go into one of the rooms. I don't usually do soppy in blogs, but to be honest it's hard not to be when talking about making disadvantaged kids' everyday lives that little bit better. And believe me when I say it will make them much happier about going to school, and hopefully about learning; in the case of the sensory room, the stimulating materials should help children with autism to learn faster too.
So over the past two weeks, we've taken some bounds and leaps in the direction of a paradise-like learning environment for children. But our work is not over yet; not by a long stretch! At the end of last week, Dee and I cleaned and primed the fifth and final downstairs room ready to be completely revamped. And in case you were wondering, that little sentence encompasses much more elbow grease than you would ever suspect; not to mention the odd ant's nest and cockroach hideout I found in my cleaning explorations! But cockroaches (hopefully) aside, we will be steaming along with the transformation of that room this week, with new volunteer Rob joining the team.
As for the more distant future, Bunti and Sandeep have ambitious plans to extend the playground and build a fairy-tale complex of tree houses. Now I don't know about you, but those plans, if they can be brought to life by the likes of you and me, sound like a real children's paradise to me!
But the Children's Paradise project is just a small example of the work that GVI make possible. If you are interested in getting involved, check out the website:
Or if you would like to keep up to date with the latest news and photos directly from the ground, as it were, follow the GVI Facebook page, or the GVI Nepal one for updates on this project. From Amelia Nashe, GVI Nepal Construction project volunteer, Namaste!