So our first month running the greenhouse has had its ups and downs. Of course we expected that the first six months was going to be a gradual learning curve for us all. We accounted for the fact that the greenhouse would not be generating an income straight away. However the excitement of seeing our first sustainable, income generating project, up and running was amazing.
We experienced our first big knock back during week 3 and the realization that failure could easily become a reality! Mistakes do and will happen and we will have to learn from them, quickly! Unfortunately, all of the vegetables that had germinated were accidentally killed as fertilizer was sprayed directly onto them. The labourer mistakenly assumed he was doing the right thing. This was definitely not just his fault but all of ours. Lack of communication, training and supervision were all contributing issues that we had to acknowledge and improve upon.

From being so elated watching the daily progress of the growing vegetables to seeing them all destroyed was emotionally tough. Madam Jane especially took it to heart as you can imagine! However, we had to move forward. It was already planned that Agrotunnel (greenhouse company) would send us an experienced consultant to provide us with training and assistance, so I made sure that this was brought forward.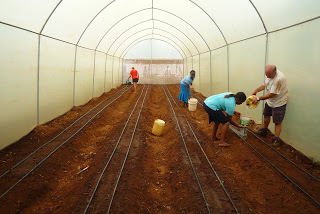 Volunteers, Dianne, Chris and Agrotunnel workers, Susan & Mirian
Much to Madam Jane's shock, Agrotunnel sent us a woman worker! Madam Jane had been of the opinion that this work was a man's work. I am now very glad they did as Susan was a brilliant helping hand, full of useful advice, providing intensive training to our local labourer. She told us she had been overseeing greenhouses on the outskirts of Nairobi for several years. Accompanied by a younger trainee, Mirian, both ladies went straight to work, delegating and getting stuck in rectifying the disaster. Fast forward three full days of hard labour and we reached the planting of the seeds stage. With the help of a couple of our dedicated volunteers, Chris and Dianne, the greenhouse was back on track.
Meanwhile, next to the greenhouse, local labourers were busy building a sturdy concrete stand for our new 4000 litre water tank. This is thanks to the money generated through volunteers coming out to support the project and the huge generosity of previous volunteer donations. This tank will be mainly used for the greenhouse. No longer will students be missing lessons going to fetch water from the village!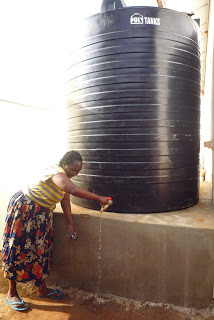 Madam Jane pleased with her new water tank
The long term goal of the greenhouse is to generate a continuous income for Precious to cover overheads such as rent, local teachers salary, rather than relying on financial donations. We hope to sell the vegetables to the local villages or even some of the nearby large hotels. Alongside this we are also focused on maximizing the education benefits for the school. We have plans to form a student greenhouse committee and have already sectioned off an area for students to plant their own seeds and teach them how to grow their own vegetables..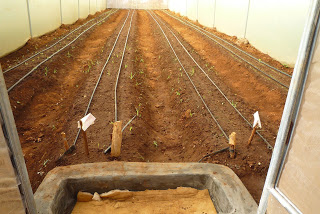 greenhouse with new footbath

Precious Vision greenhouse progress to be continued…..
By Katie Dangerfield, GVI field staff
Subscribe to our Blog
GVI on Instagram
Sorry:

- Instagram feed not found.
GVI on Facebook