Overcoming Tourists in Paradise
By Emilie Holdsworth
2 years ago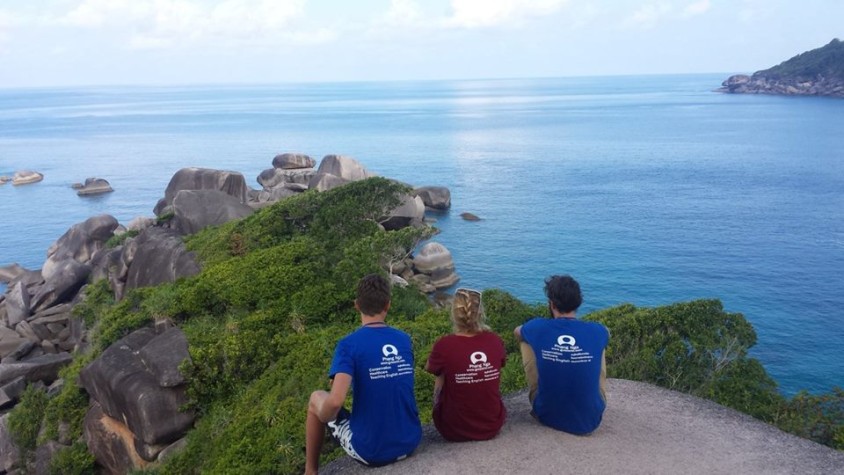 There are signs up all over Koh Similan with the words "Don't leave anything on the island except your footprint." It's safe to say that the majority of tourists don't abide by this in any way. I don't think you discover the extent of it until you're actually cleaning a beach and actively looking at it for most of the day.
First thing in the morning, the beach it is what everyone pictures Thailand to look like; white sand and clear blue water that goes on forever. Unlike Island 4 of the Similans, you can see where the tide crashes on the shore overnight thanks to scraps of plastic outlining the waters highest point. This unfortunately does ruin the beauty of the island. Then at around 10:30 the first batch of tourists arrives, which does pretty well at matching what the litter does.
Although picking up after the hoards all day is incredibly frustrating, it doesn't help that many of them look miserable despite being on arguably one of the most amazing beaches with really attentive and friendly staff. It's almost fascinating to watch how people obnoxiously chuck their cigarette butts into the sea or ingenuously attempt to bury them in the sand. I don't think I've found many things as satisfying as putting them in their place.
Most of our time there consisted of at least attempting to get tourists to pick up after themselves as well as stopping them from touching, stealing and harming the wildlife. One incident that stood out to me was a young girl smashing a hermit crab with a chunk of coral as her dad watched on bemused with his camera. It look two firm "NO"'s and someone actually taking both the tool and the victim away from her – of course with no help from her parents.
It was refreshing to visit Khao Sok later on in the week and not be surrounded by piles of rubbish. You would never know that the stunning Cheow Larn Lake was man made – it's so hard to believe that something so beautiful was created by the same species that actively destroys natural paradises.
However, it was unclear whether this cleanliness was because of the management of the forests, lake etc. or that tourists had more respect. Either way it needs to be incorporated into the world of the Similans. Hopefully, we're helping to do just that.
Written by Emilie Holdsworth, 8 weeks Coastal Marine Conservation Expedition
GVI on Instagram
Sorry:

- Instagram feed not found.