New Playhouse at Ikhayalethemba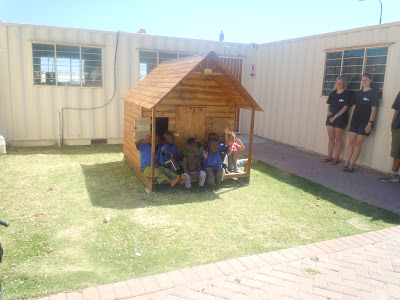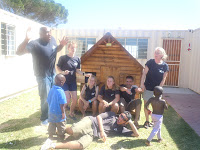 There was great excitement at Ikhayalethemba orphanage on Thursday when Father Christmas' present arrived early.

 

The children looked on with anticipation as a van drove up and in the back were large wooden shapes.

 

They sat as a group to watch their gift unfold.

 

It wasn't long before the children could recognise that the shapes were going to make a playhouse. As the workers put the playhouse together the children sat attentively. Once they realised what it was going to be, they started planning what they could put in it.

 

The carers were joking that they would put their own beds in there to sleep, much to the amusement of the children. In the meantime, our Programs Manager JT phoned  and I asked one of the children to tell her what was happening.

 

He said, "You must get in your car and come see". Of course she couldn't resist a trip in to see the excitement (even though she doesn't have a car!)
Once the house was erected, the workers stained it so the children had to wait to explore for an hour and a half whilst it dried.

 

They did this well and managed to line up an array of things that they thought would be suitable to use inside. The playhouse has proven great fun in the first couple of days and we're sure there is a lot more fun to be had. We also look forward to the house becoming a stable for our Christmas Nativity on Christmas Eve.
Your kind donations to the Charitable Trust make it possible for us to provide this play equipment and other facilities for the children.

 

We thank people for their donations.

 

If you would also like to donate or find out more about the Charitable Trust please visit
www.gvi.org
Subscribe to our Blog
GVI on Instagram
Sorry:

- Instagram feed not found.
GVI on Facebook