New Field a great Facility for ACJ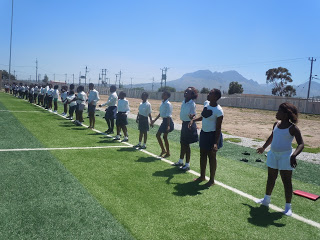 For those of you who follow our blogs, you'll know that we have lots of rebuilding and renovation happening at ACJ Primary school and we look forward to seeing the kids in their new classrooms sometime soon. The added bonus with the buildings work is that we now have a field. A large area of astro turf, well marked for soccer games and fenced off in an effort to deter goats, dogs and whatever else may be wandering by.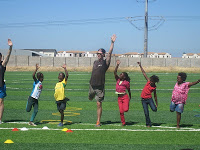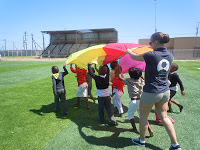 We are now able to use the field for our sports lessons.

 

What a fantastic resource! Gone are the days of our Sports lessons being in a carpark, a walkway, or any other space we can find.

 

We now have a field! The students of ACJ are loving this new facility and it is making it far easier for the volunteers and teachers to run the lessons. It also gives scope to make the lessons far more active and interesting with the added space.
The field is also close by for Nceduluntu Nursery so it's been great to be able to take the children over to have a good run around, play with hoops and balls and expel a bit of energy.
We've already been able to use the field for a fundraising day and athletics day and I'm sure there will be many more events to come.

 

In the meantime our Sports volunteers are enjoying the facility as are all the children who step foot on the new field.