By GVI Nepal team
2 years ago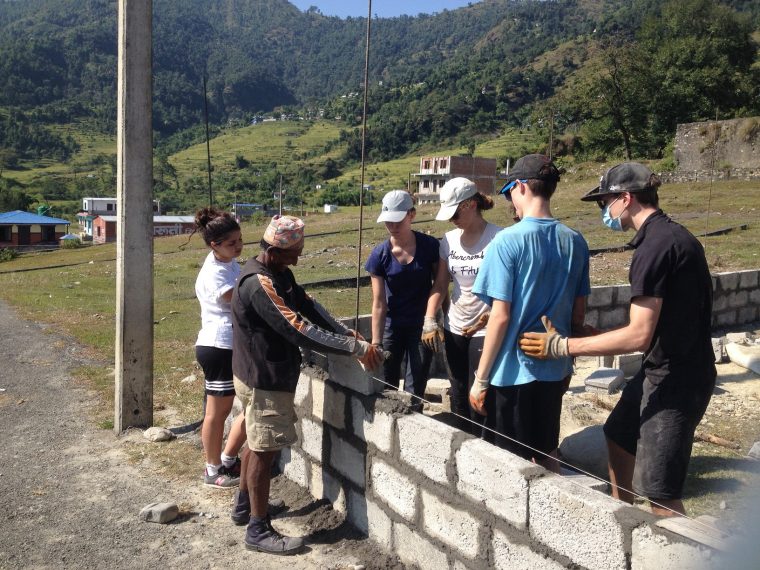 We have been working with the boys from Street Boys Rehabilitation centre for several years now.  The ten boys, their house mother and her daughter currently live in a small home.  The committee has managed to secure land and begin building a new home. We are keen to help the project and therefore offered our assistance.  The shell of the building is there, but before work can continue, it was important that a secure wall is built around the home and this is where we stepped in to help.
The project began with Lycee International School from London.  Over four days the students cleared the land and prepared foundations. It was an amazing team effort and an important step, moving hundreds of rocks and using them to form the foundation of the wall and also forming a human chain to unload the bricks from the truck, pass them along and stack them in readiness for the wall to be built. A Nepali builder worked with the students to set the guide lines to ensure the wall would be straight. The group then learnt to mix concrete Nepali style as well as lay bricks.  They managed several rows of bricks for the wall over their time here which was a great start to the project.
Once the school group moved on we had our construction volunteers continue the task. Facing challenges such as getting water to the site, they mixed cement, laid bricks and continued the structure with the continued support of a local, experienced worker. There were no fancy concrete mixers, it was all done by hand.
There was a change of volunteers as some completed their time in Nepal but the project continued. Once the wall was completed it was time to plaster. Another experienced Nepali was utilised to share his skills and the volunteers helped him out as they plastered the wall.
The final touch was to employ some locals to make and install the metal gates.  This is important for security and also makes the new Boys Home feel part of their new community.  It certainly has a finished look.
Thirty one volunteers,  four  local workers and  plenty of bags of  cement and bricks later, the Boys Home now has a secure wall.  It creates a play area and a space where they can grow their own vegetables. The next step is for the building of the house itself to continue and we will be there to provide support where we can.