You never know where life will take you
By Kristen Favorito
3 years ago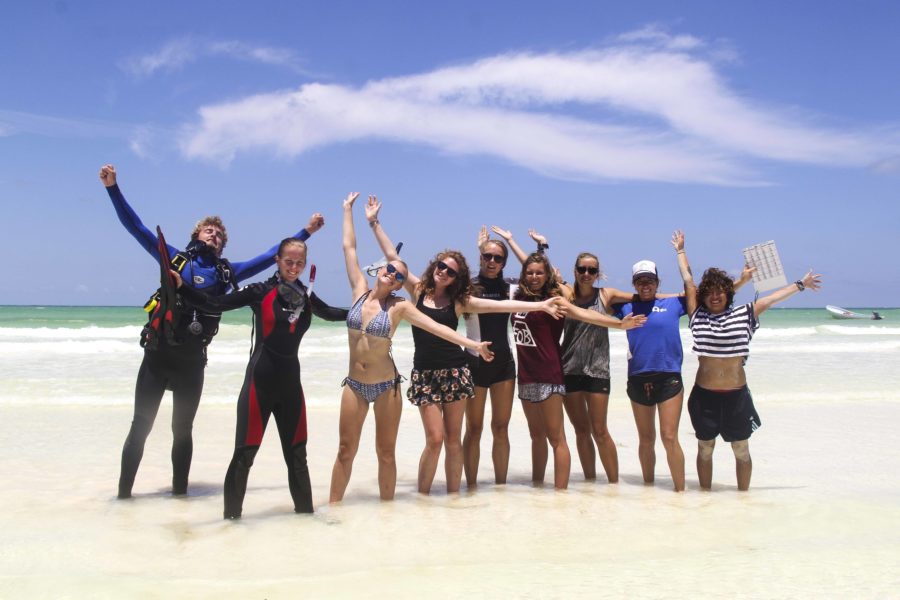 Just over 3 years ago I was living in NYC, working a corporate job and loathing the daily grind. Now I find myself in the middle of a bio reserve, at a marine conservation base camp, scuba diving daily and collecting data on the health of the Mesoamerican Reef. How in the world did I make that leap?Leaving my job was probably the scariest thing I've ever done. I had spent 8 years building a career and suddenly I was leaving it behind for an unknown future. Sounds crazy, huh? I had seen people at my company that were truly passionate about what they were doing and I said to myself, that is what I want! So, I bought my one-way ticket to Nepal, slung on my backpack and off I went in search of my true passion. I bounced around from place to place for over two years, working odd jobs for money and trying to experience as many things as possible. While I was in Thailand I decided to try scuba diving so I got my open water certification. From the moment I descended on my first dive I was obsessed…in love with the underwater world. So I continued on to my advanced open water. A year and 40 dives later I returned for my rescue and dive master certifications.
Getting my dive master cert changed my world. I was now considering a career in diving. During my DM program I participated in beach cleans and Dive Against Debris reef cleans, which gave me a greater appreciation for marine conservation initiatives, and the need to help protect the environment that was bringing me so much joy. Now I was onto something. Diving is what made me the happiest, and conservation was what I was most passionate about. So how does one with a marketing degree get a job in marine conservation? Going back to school for a marine sciences degree was financially out of my reach, but gaining invaluable experience volunteering was right up my alley. Introducing, GVI!
GVI was the perfect solution for me. Not only could I get 12 weeks of research diving experience, but I could also continue on to complete my IDC and MSDT to become a PADI scuba diving instructor. I'm two months into my internship now and so far it has been an amazing ride. I am learning so much about scientific diving, and if you had told me 2 months ago that I would be able to name over 50 coral and algae species, I would say you were crazy. But here I am, monitoring and contributing data that will help make a difference in the world's 2nd largest barrier reef.
Additionally, as part of my leadership internship project I have helped arrange a Diving Against Debris reef clean that will now happen monthly with the data being submitted to Project AWARE. , I also helped organise a series of Fin-a-thon events to raise donations and awareness for Project AWARE's sharks and rays in peril campaign. If you would like to see how we are doing or would like to donate yourself, our page is still active at www.justgiving.com/gvi-pez-maya2. So, you see, I've come full circle. Participating in Project AWARE events during my DM training led me here to GVI Pez Maya, and now I get to pass it on to so many others.
I'm not sure yet what career path I will end up taking once I am through with my time here, but at least I now know where my passion lies, that I can truly make a difference in the world around me, and that my experiences here will open a lot of doors to a career doing what I love, diving and protecting our oceans.