Nepali and western methods of construction
By James Barnes
3 years ago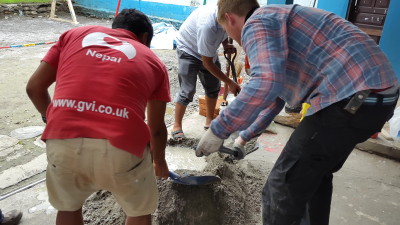 Tuesday was the first day on site at Children's Paradise for the construction volunteer newbies (Lucy and I). After only a few hours we were already starting to merge Nepali and western methods of construction. We were rebuilding and concreting a wall which is used for seating when the children are playing on the play set (which was another project completed by GVI) and I am looking forward to seeing it in use.
Settling in has been easy, the staff are caring and funny, there has been good camaraderie between the volunteers and the volunteer's house is already starting to feel like home.
Subscribe to our Blog
GVI on Instagram
Sorry:

- Instagram feed not found.
GVI on Facebook