Nam Thuam Internship: Kira's Story
By Kira Petrie
3 years ago
Last week GVI Laos was proud to announce the finalization of our Nam Thuam internship placement. Through this internship, GVI has expanded its reach and is able to help an increased number of rural students gain access to education. It also gives our interns the unique opportunity to experience rural life in Laos and give back to a diversified range of students in the wider Luang Prabang community. Kira Petrie, our first intern to complete the placement, has written about her first two weeks living and teaching in Nam Thuam.
I am a teacher of twenty-three very loud jumping beans who have big smiles and small attention spans. But hey what can you do, six year olds have a lot to do. My name is Kira Petrie and I am the first GVI intern to be placed in Nam Thuam.
After spending two months contributing to the GVI Laos projects in Luang Prabang, I have been relocated to a rural village two hours away. The school consists of three long buildings, painted bright pink, bright blue, and mint green. I live at the school attached to the classroom that hosts my night class of highschool students. My room is big and square with an attached bathroom, and an outdoor kitchen. My room has a desk that sits in front of my only window, a personal fridge, an armor that holds all my sihns and a bed. It's perfect. It has everything I need. The room is constantly filled with the sounds of happy children who play on the football field or on the playground. Except, of course, at night when it is filled with the hum of crickets and the breeze that rustles the jungle, which sits behind my room.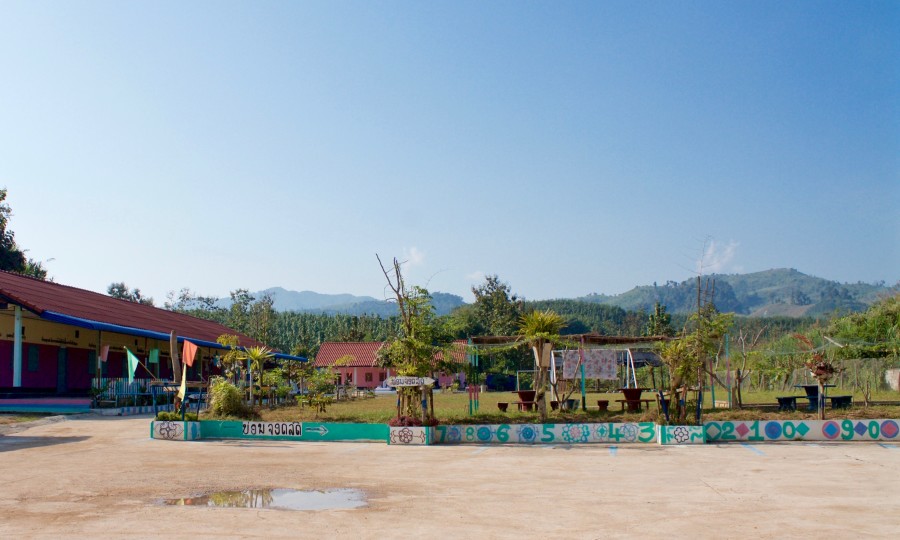 Walking in to class on the first day was a bit overwhelming. Little did I know Sichan, my local Lao teaching partner, was going to let me just jump straight into it. I had no plan. By his comment to "relax" last night I didn't think I needed one. Oh boy! He reclined into the teaching chair ready to watch me do my thing. Okaayyyy, I thought, Let's do this then. Luckily all the training, support and experience I'd received on base in Luang Prabang kicked in and I quickly felt at ease at the front of the classroom. Those twenty-three bouncing beans were eager to show me what they knew. "A, B, C, D…" They all screamed as I held up the flash cards. I found out quickly that I had to keep changing games or I'd loose their focus. Regardless, this is only one of the classes that I teach and the various levels of English mean that I am constantly being challenged and gaining a plethora of new skills and experiences.
In addition to the several day classes at the primary school, I also work alongside Sichan in the evenings at the newly opened by GVI Laos' partner, the Mekong English Centre. The first hour we have five students. The second hour we have about seventeen to twenty. They are all vey funny, I mean I presume so; their apparent quick-witted remarks in Lao constantly have Sichan laughing. I am currently learning Lao from Sichan too, hoping to one day understand and contribute to their humor. Sichan has also been extremely supportive. He has become not only a strong teaching partner, but a true friend who has looked out for me during my transition.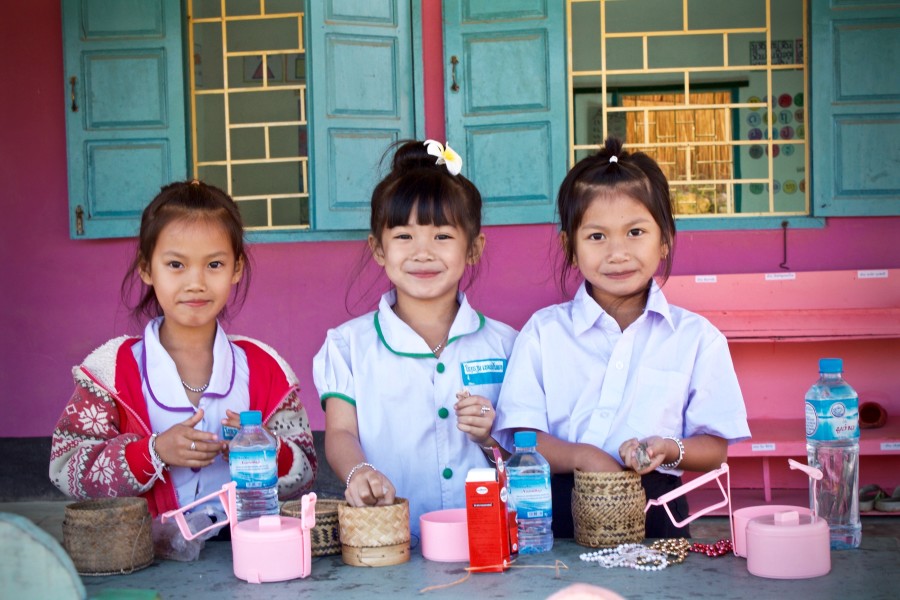 Warm faces bearing huge smiles have welcomed me to Nam Thuam. I already feel at home and am looking forward to what is to come in this beautiful place I now call home for the next 5 weeks.
Written by Intern Kira Petrie