Mzolis a Day To Rememeber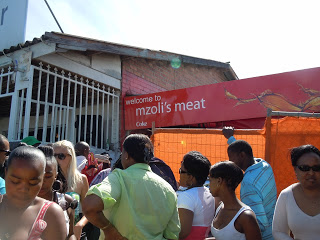 One of the best tours that we did during our time with GVI Cape Town was the "Typical Sunday" Township Experience with

 

MC (the best tour guide in the world!).

 

The tour was in

 

Langa (the first township in Cape Town) where he took us to a service at his church.

 

When we arrived, the service was in full swing with singing and dancing.

 

The atmosphere was joyous, uplifting and everybody was singing so beautifully.

 

The service was in Xhosa but MC did a great job explaining what was happening showing us in the Xhosa bible and hymnal. They were all very welcoming and included us in the morning announcements where the whole congregation waved "hello".
After the service we went to Mzolis which is based in the middle of a neighbouring township and was booming with activity.

 

The streets were full, music was pumping and it was THE place to be on a Sunday afternoon.

 

People travel from all over South Africa to taste the amazing braii that Mizolis has to offer.

 

We got to see how the Braii was made andwe also got to

 

meet Mr Mizoli himself. He was very, very nice and welcoming.

 

If you go, make sure you have a Hansa beer which comes in extra, extra large bottles-two hands needed.
In order for us to get our table and food on time, MCs wife and daughter had to get there 2 to 3 hours before we did.

 

They said that in summer they have to get there 5 to 6 hours before to get a table! But it's definitely worth the wait.
We highly recommend this tour if you are coming to the Cape Town projects.

 

Don't miss this!!
Cape Town projects Gordon's Bay
Subscribe to our Blog
GVI on Instagram
Sorry:

- Instagram feed not found.
GVI on Facebook