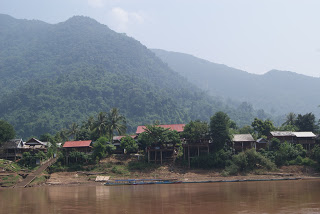 Located a few hours' drive, and a further hour long boat trip North of Luang Prabang, Muang Ngoi is a peaceful fisherman village that is perfect for spending a weekend relaxing. Volunteers have visited on a number of occasions, enjoying the beautiful views that the drive offers of the countryside – or that the boat offers of the river – and the idyllic atmosphere of Muang Ngoi itself. Nearby to the village, there are a set of caves that locals hid in during the war, which volunteers have had a good time exploring, and a little further away are a set of even smaller villages, perfect examples of how rural life is in Laos. Sunset and sunrise both have a number of spots that they are visible from, and they're without a doubt some of the most spectacular natural sites to watch the day end and begin again.
If you have a spare weekend in Luang Prabang, Muang Ngoi is definitely worth the trip to unwind after a week's teaching.
-Written by intern Matt who is from England and on the project for 6 months
Subscribe to our Blog
GVI on Instagram
Sorry:

- Instagram feed not found.
GVI on Facebook