Moments that make 5 a.m. bearable
Though working on a game reserve in South Africa vastly contrasts the pace and life style of a city job back home, there is one thing that stays the same no matter whe
re you live in the world; early mornings. No matter what the day holds, waking up before 5 a.m. always makes you start your day in a bit of a daze. My morning on Sunday began exactly that way; stumbling to get dressed, yawning while making tea and sleep-walking to the bakkie. To top it all off, something no one wants to do while on drive by alone, one of my tyres was flat and the other was slowly, but continuously, releasing air. Grumbling, I changed the tyre and fixed the other but not without a spanner bruising my knee and tripping over a can full of diesel oil which promptly covered the generator floor. All in all, I thought my day was not off to a good start.
After driving along North/South Main up to Snake Eagle Junction in thick mist, I decided to try for Ketsweri, our collared female cheetah (Acinonyx jubatus) who had not been seen for a few days. She had finally come out of her den site but besides a brief sighting from Beth (master telemetrist; see previous blog) we had no idea the number or health of the cubs. We were all positive she would keep her cubs deep within the bush for a long period of time, especially since they were all so skittish when Beth had seen them. I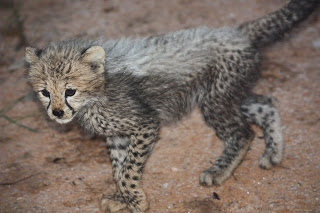 laughed at the fact that all my friends have asked for pictures. The idea seemed absolutely absurd, at least for the next month or two. As I got signal down Snake Eagle road I flopped back into the car, regretted not having my second cup of tea and frowned at the oil under my fingernails. After puttering along for 5 minutes I checked for her again and realised she was mobile and now behind me. Reversing quickly, I turned to face to see the exact thing I thought was impossible only a few minutes before. Ketsweri was walking along the road in front of me with 5 fluffy, little furballs in tow. Slowly, we made our way back to Snake Eagle Junction where I turned off the vehicle and sat in wonder. Ketsweri then stopped 20 m in front of the car while her cubs peeked out behind her legs and nearby bushes to examine the large, green foreign object. Needless to say, at this moment I was wide awake, extremely ecstatic and possibly gushing with excitment. Slowly, Ketsweri approached the vehicle. With this affirmation from their mom that the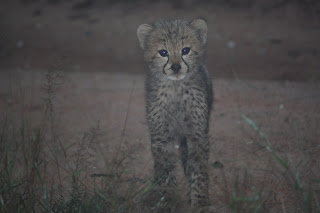 bakkie was safe, a few brave ones bounded up to the car to inspect it. Coming so close I could have opened up the door and touched one, I was able to see firsthand the whiteness of the cubs' fur in attempt to resemble honey badgers (Mellivora capensis) to deter predators as well as the dew from the morning's mist (and, lets be honest, their ridiculous cuteness). After a brief few minutes the mother and cubs chirped back and forth to each other and all headed down a different road and off into the bush. With my heart racing and my eyes brimming with tears I knew every vehicle issue, every bruise and every 5 am wake up was and will always be absolutely worth it.
Subscribe to our Blog
GVI on Instagram
Sorry:

- Instagram feed not found.
GVI on Facebook