Marine Volunteers help local communities start Seaweed farms
This month, Global Vision International (GVI) Fiji's Marine Research and Conservation team joined forces with the Department of Fisheries to establish a new initiative, promoting alternative livelihoods for the communities in the Yasawa Islands, Fiji.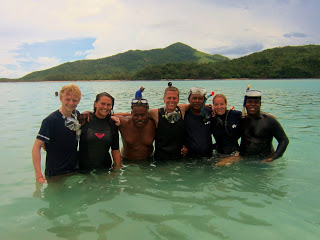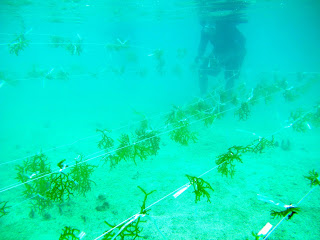 The project aims to teach local communities about the positive prospects of seaweed farming. Seaweed farming is ideal for the local Fijian communities for a number of reasons. The seaweed farms are very simple and inexpensive to set up and the actual cost of maintaining a farm once in place is also very low. The turnover time for the seaweed to be harvested is relatively fast (5 weeks) and the environmental conditions found in the Yasawas (shallow waters, sandy bottoms, good current flow and high amounts of sunlight) are optimal for seaweed farming. In addition to these factors, the seaweed farms create an environment for numerous fish species to inhabit, generating another source of food/ income for the locals. 
All of these positive aspects make seaweed farming an excellent alternative livelihood for local communities. It can also help reduce overfishing by providing an alternative source of food and income for the community and in turn reduce the reliance on fishing.
Over the course of two days, GVI volunteers assisted the community of Namatayalevu to implement a new seaweed farm. On the first day the Department of Fisheries taught the villagers the method of installing the seaweed farm with a land demonstration. The next day GVI returned to Namatayalevu to help set up the initial test pilot of seaweed farming in a carefully selected passage of water outside the village. We found the whole experience was very interesting and rewarding, to be able to work alongside the locals to help them in the initiation of this alternative livelihood. Overall the operation went very smoothly and the GVI team look forward to returning to Namatayalevu in 5 weeks time to help with the first harvest of seaweed.
Jade & Mads (Marine Expedition volunteers)