Marine species monitoring and becoming a dive pro!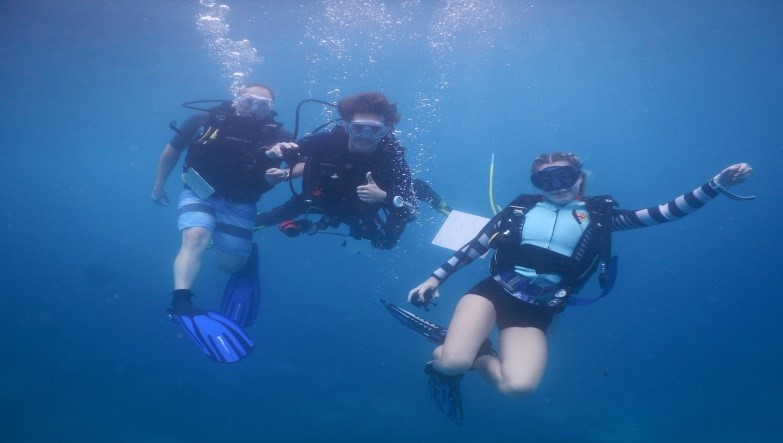 Following the excitement of finally arriving at the GVI base in Cap Ternay, there was a sudden realization all around camp that there are actually some work to be done while we are here. Happy to say though that after finishing the advanced open water training, getting the necessary daily duty training and fish and coral presentations, everybody seemed to have settled in well, even me, which is usually something which takes me quite some time longer. I believe that says a lot about the culture around base and the fact that the staff is very helpful and always seems to be willing to go out of their way to provide assistance or even just a friendly chat. So far all the volunteers seem to get along very well and the atmosphere around base is very friendly and alive, the first weekend surely made some contributions to that.
Week 2 is very much all about learning the reefs, whether it is fish or coral studies, and the methods to survey these, which is of course why we all are here. Even though we have had to put up with some rainy days recently, the diving never seems to stop, which is nice of course. I have personally already more than doubled my diving experience here having already dived 12 times during the first week and by the end I will be quite the professional.
For me personally, I feel that having settled in now, I can once again start to get enthusiastic about what is still to come, things like the leadership programs, survey methodologies and techniques, and basically just be part of the marine conservation lifestyle. With all the cheerfulness, smiles and help available around base, I can't think of any reason why my time here will not be enjoyable, even the basic living conditions seems to get better and better with every passing day and I am in no doubt that the 3 months which I thought might feel like an eternity are actually going to fly by.
My only concern about my time here is that there is way too little meat on the menu and I will probably have to go into town a bit more often than anticipated to get my hands on a steak or something which used to graze the fields otherwise I will not survive, but then again I am South African and we can survive just about anything, but in the meantime I will enjoy everything here while I can and keep on diving.