Mahout Biographies - Sombat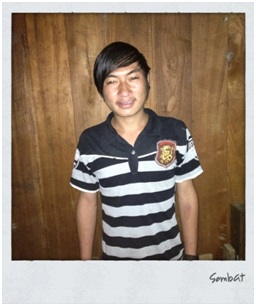 | | |
| --- | --- |
| | |
| | July 9th, 1992 |
| | |
| | |
| | |
| | |
| | |
Sombat has lived most of his life in the village. He attended the school here until age 12 and although he dreamed of becoming a mahout as soon as he turned 12, he was not yet tall enough. In fact, when the elephants were brought back for a gijoo ceremony, one of the elephants supposedly mistook him for a dog and was spooked; the elephant proceeded to panic and slap him with its trunk. Therefore, his mother encouraged him to continue school in Bangoong (approximately 20 km away from Huay Pakoot) until he was 15 years old. Sombat's parents were quite strict, especially when it came to his education. He recalls his father beating him with a bamboo stick when he refused to go to school at age 6. Despite his parents' efforts, Sombat continued to avoid school, often playing hooky with his best friend and now fellow mahout, Suwit. As soon as he was tall enough (age 15), Sombat began working at an elephant camp. He returned to the village once Mario was old enough to need his own mahout. Sombat's grandmother is old chief's sister, meaning Sombat's family owns Sen Jep and Mario. The one time that Sombat left Thailand was when he took a trip to Burma with a friend that he met at an elephant camp. Sombat describes himself as friendly, reflective, and an animal-lover. His passion for animals is illustrated by the fact that unlike many of the other mahouts, he chooses not to hunt or kill animals. In his free time, he enjoys playing football, watching movies, and playing tocrah.
| | |
| --- | --- |
| | Professional football player or muay thai fighter |
| Favorite thing about being a mahout | Being around elephants genuinely makes him happy |
| Knowledge about medicinal plants | Yes (mostly for elephants) |
Subscribe to our Blog
GVI on Instagram
Sorry:

- Instagram feed not found.
GVI on Facebook