Looking forward to the weekend...
By Anna luetke Juedefeld
3 years ago

After a long week full of early-morning sharking, long wurtles, hard Coco de Mer climbs, muddy mangrove surveys, cute tortoise ticklings and hot beach profiling, I always really look forward to a relaxing weekend. On Saturdays and Sundays it's time to stop thinking about exhausting work carried out on surveys or at base and start experiencing the Seychelles as tourists would! So… laying on the beach, eating good food (that I definitely did NOT cook by myself) and having nice chats with friends while drinking some alcohol (probably more than three beers).
When I'm sitting on the boat on Saturday morning driving away from Curieuse to Praslin, ready for the weekend, I always look around and realize that I'm surrounded by all those beautiful islands and the wonderful clear blue sea and I think: "All the work was worth it, that's why I'm here!"
Now the weekend can begin! With some of the 'must do's' on my weekend check list being to sneakily use Wi-Fi at Paradise Sun Resort, meet some nice local people, eat a lot of unhealthy food, relax on beautiful beaches, enjoy the nature and of course have a few cold drinks.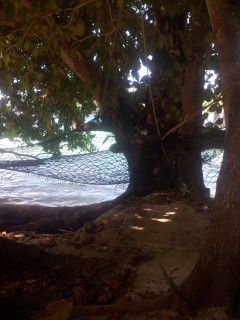 But that doesn't mean that weekends on base cannot be enjoyable as well. Sometimes I even prefer staying on base doing nothing but reading a book, laying in the hammock and watching movies (especially in the last week of the month when the new volunteers arrive, because that means the staff members will cook for the whole team to make a good impression 😉 ).
In the end, it doesn't matter where I am or what I'm doing, I just love the feeling of being on holiday at the weekends, in one of the most amazing places in the world.