Local school children enjoy a day on Karongwe
By Ari Whiteman, Karongwe Intern
4 years ago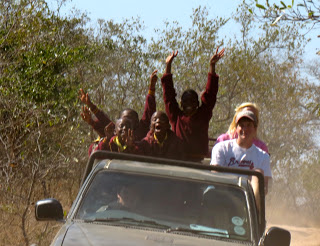 It was an eventful afternoon here at Karongwe today as twelve local students from the Diputhi School came to experience a real-life safari! Most of the children, aged between 6-8, had never seen wild animals on a game reserve despite growing up so close nearby. For the six volunteers lucky enough to take the students around on a drive, it was an experience that was both exciting and quite humbling as well – one I will surely never forget. From a sighting perspective, the drive was without a doubt the most incredible I have experienced thus far in what can only be described as "spin around the block."
To date, I personally have never seen so many amazing things in such a short period here on the reserve and while the students may not have realised how lucky they were, the excitement on their faces was infectious. In roughly fifteen minutes the students were treated to hippos mock charging, giraffes sprinting, crocodiles, vervet monkeys, impala, and… drumroll please… the elephant herd! I've been here for a month and haven't had an elephant sighting that good. It was unbelievable luck, and while it was easy to fixate on the wildlife, the looks on the students faces were truly priceless. Like twelve year old girls at a Justin Bieber show, they screamed and giggled their way through the bush, scarcely sitting down but rather jumping and waving their hands in the air, and all the while eying the animals as superstar celebrities.
After the drive the students returned to base to enjoy peanut butter sandwiches and a game of soccer. Coincidentally, the only thing more impressive than the drive ended up being their ball skills, as I can easily picture several kids in particular as starting strikers for Manchester United by their ninth birthdays. From a conservation perspective, the afternoon was extremely heartening. One of the great struggles of modern conservation is inspiring locals, especially in developing countries, to take the future of the environment into their own hands. Hopefully, as a result of their visit, these kids will grow up to play an integral role in the sustainable management of local biodiversity. From a human perspective though, the Diputhi children certainly reminded me how lucky I am to be here. It's admittedly easy sometimes to take aspects of our work for granted. However, every once in a while it's nice to be reminded what life would be like in other people's shoes. So when the exhaustion of 6:00am drives starts to get to me or the perpetual dust in my hair begins to make me itch, I will try to remember the looks on those student's faces and be grounded by the simple notion that when living on a game reserve, life could always be worse.
Subscribe to our Blog
GVI on Instagram
Sorry:

- Instagram feed not found.
GVI on Facebook