What is it like to be a childcare volunteer? Cordelia tells all......
By Cordelia Newbery
4 years ago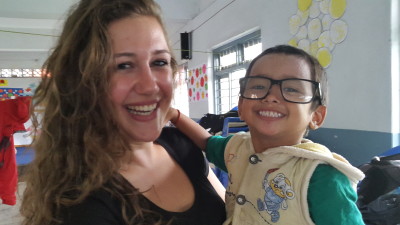 I have almost completed my 3rd week as a volunteer with the childcare programme and I'm loving it! The two projects that I have worked on are with the streets boys and at a day care centre in Male Patan. I already fell very close to all the kids and I know that saying goodbye in a couple of weeks is going to be very sad!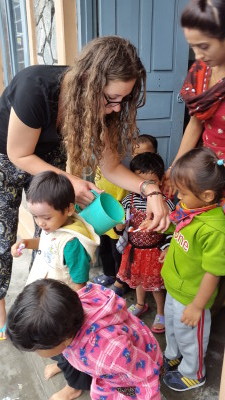 A typical day here begins by leaving at 6:30am to walk to the house where 9 boys, who used to be on the streets, now live. We do an hour of homework with them and then an hour of football or games. It's so easy to forget that these boys used to have very different lives compared to now. Today I helped an 8 year old boy with maths and English. It obvious that he has missed out on a lot of his education but he is always so willing to work hard, which is very refreshing after working with children in England.
The second project that I work on is at the day care centre. 28 three year olds who all have crazy personalities! I have loved working with these kids, but find it so difficult to learn all of their names. This month, we have focussed on the theme 'animals and insects'. I have really enjoyed being able to get so involved with planning activities. We made animal masks for the kids to wear/ managed to do some face painting, and have also made some games. It sounds so cliché but it is so true when people say 'the more you put in, the more you get out.' Seeing the kids love the activities we made is very rewarding.
Nepal is the first country that I travelled to alone but it is one of the friendliest places I've been. I have made some really good friends within the GVI group but also loved being part of a Nepalese community, living with a host family has enabled me to really experience local culture and I've loved being able to share the experiences with other volunteers. The thought that 2weeks today, I will land in the UK is very scary. I have loved every minute of my time here and don't want it to come to an end!