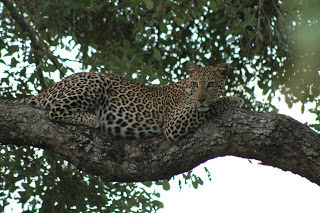 Last week it seemed leopards (Panthera pardus) could not get enough of the volunteers and tourists on Karongwe! With sixteen sightings the reserve was spoilt rotten with amazing visuals, with one morning Andreas Fox seeing six of the seven leopards called in. Kaggie Orrick has also officially retracted her statement that Karongwe leopards are afraid of heights as she saw yet another female leopard, Matasa, in a tree after almost two years of never seeing one off the ground. Though it was obviously exciting to see so many leopards in such a short period of time, it also had a great benefit for GVI as well. From our sightings for the last two weeks we were able to add four more leopard ID kits, including for Makulu's (a large female) two cubs. With the hard work of Beth Silvester, our Science Officer, over the last year we have been able to identify eighteen individual leopards as well as roughly determine their territories. This was only a part of the Annual Report Beth has worked on for the last year, which will be made available on this blog at a later date.
Photo courtesy of Jamie Featherstone
Subscribe to our Blog
GVI on Instagram
Sorry:

- Instagram feed not found.
GVI on Facebook