Learn to think, think to dream, live your dreams!
By Leah Fogarty
3 years ago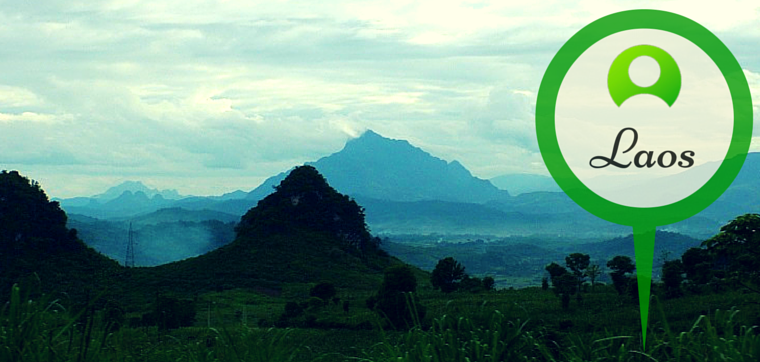 At the start of 2015, I made the decision to take time off this year from my business and professional life in order to fulfill a dream of mine, that being to travel to Southeast Asia and do some volunteering work. Considering my practice as a Sports Psychologist often involves encouraging clients to be mindful, to meditate and to live a values guided life, when I came across GVIs Teaching English to Novice Monks project in Luang Prabang, my soul tingled.
Upon arriving at Villa Merry 2 and beginning our induction on the first Saturday, we were informed of two events happening that weekend, that being a temple visit with chanting monks and a soccer match against ex-novice monks, both involving current GVI students. Little did I know that these two events would be my introduction to some of the students that I would teach over the next 2 weeks.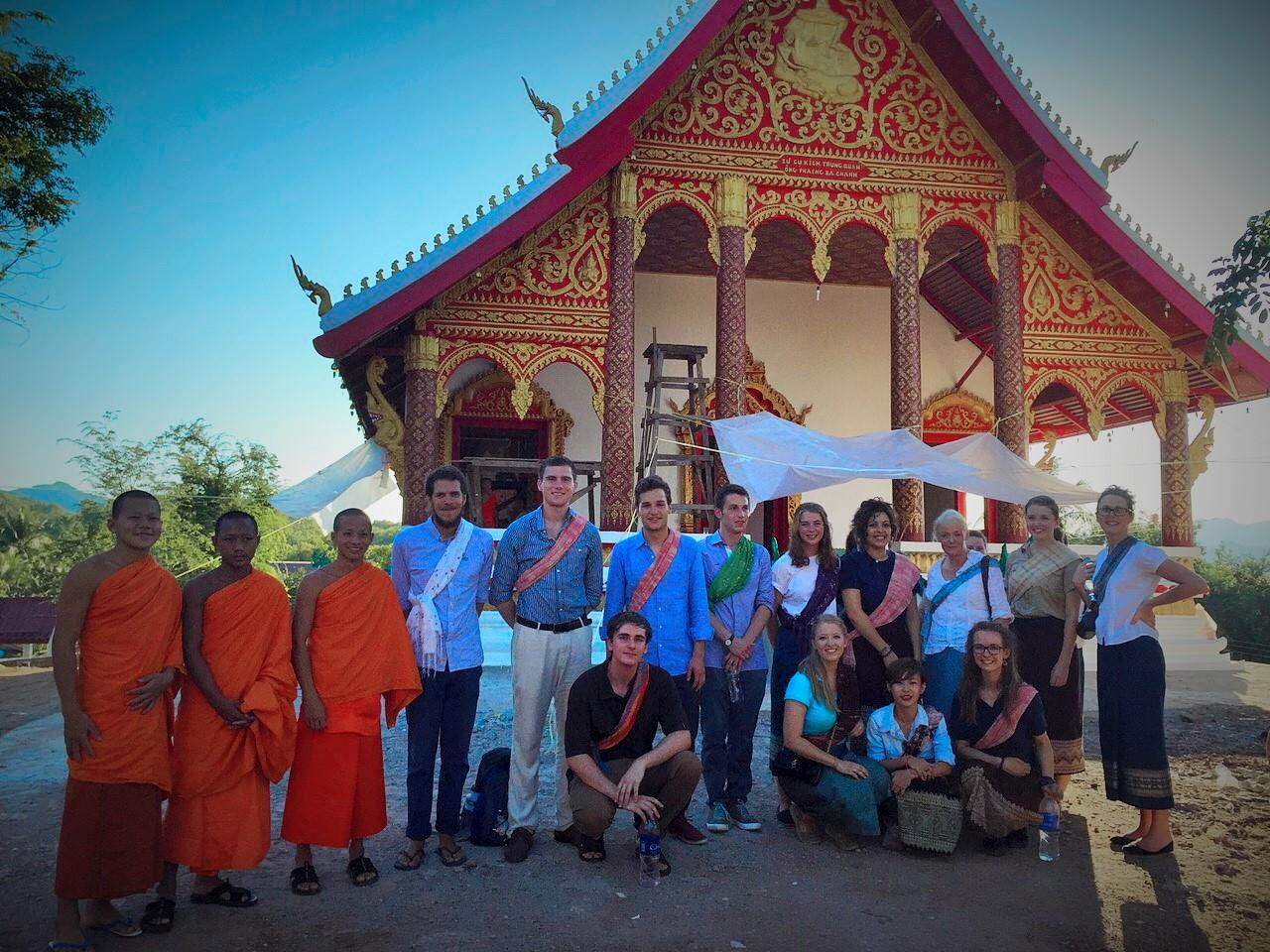 I must say, and thank the GVI staff once again, that I certainly was given a great mix and schedule of classes. My morning Beginners class consisted of approximately 30 students, aged from around 5 and up to 17 years. This class gave me the opportunity to tap into my "child within" and be the big kid who sang, danced, dressed up and tried to bring fun to the basics of the English language. One topic we covered was our Family Tree which revealed and educated me about the many different family dynamics for the students as well allowing me to resonate with and appreciate my own heritage. My desire over the coming years is to start my own family so it was such a delight to be able to utilise my maternal instinct. As a result I was quite emotional on my final day when hugging each of my students and receiving their beautiful gifts and cards.
My lunchtime lesson was with the Intermediate class of novice monks (4) and ex-novices (3). Considering these young men spoke fluent English, our role was to educate and guide them on the English written language (vocabulary expansion, essay writing, exam questions) in order to assist with their future ambitions (e.g. University, travel, job applications). However, in between these teachings there were often discussions about our vastly different ways of life. There was a profound mutual respect and interest in each other's worlds, and so these learnings were definitely a two way street. Although my formal teaching time with these admirable young men was short, we continue to keep in touch and so does the teaching and learning. Furthermore, I was so delighted to arrange at the end of my placement to be the financial sponsor for two of these men over the next couple of years of their education. Their gentle nature, contagious smiles and commitment to a better life for all will stay with me forever.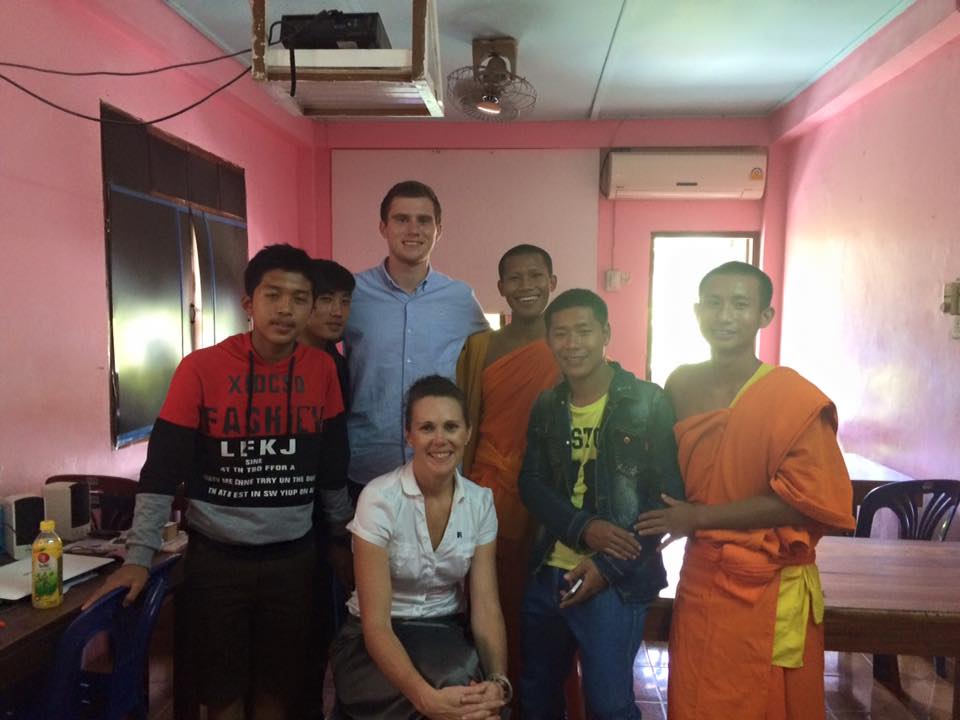 The last class for my teaching day was a Beginners evening lesson with a group of young, exceptional women from a local organisation that rescues girls from the sex industry. I never imagined that I would be gifted something so powerful in addition to spending my extraordinary time with the novice monks. This opportunity to have a positive influence (ie English teaching, positive female role modelling, genuine care) on these beautiful young women was life changing for all. In light of what these 11-16 year olds have already experienced, felt and been exposed to, to see their smiling faces, hear their laughter, receive their gratitude, and witness their growth and development in merely two weeks so they can have a brighter future was monumental for me.
My mantra for all my students was:
LEARN TO THINK, THINK TO DREAM, LIVE YOUR DREAMS!
After you get through the first week of training, planning and teaching, you find and get into a rhythm that allows you to really enjoy what happens in the classroom and also out of it. If you manage your time well and use your free time to explore what Luang Prabang has to offer, you have the most amazing adventure. I sure did! When I arrived at GVI Luang Prabang I was surprised to hear that some volunteers extend their time on the project and stay for many months. However, after my first week I could understand why. Two weeks was way too short for me, and so saying goodbye to all my inspiring students, supportive GVI staff and the wonderful fellow volunteers who shared this amazing time with me, was really hard and emotional.
I thank you all for this life changing experience and for helping me LIVE MY DREAMS.
Forever in my heart
Written by teaching volunteer Leah Fogarty