Laura and Louise's Nepali Adventure – Part 3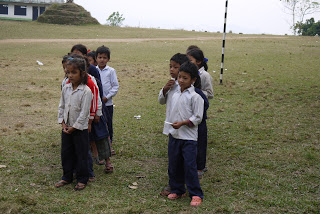 Our school time-table would start at 10am to 12.30pm, when we would wander back for lunch at the Famous Farm, until 2.30 pm when school would continue until 4pm. It was a hard life! After we would make our way to the Dumb and Deaf Home, a charity set up by HE, where 16 children live as their parents can't cope with their disabilities. Aged between 6 and 16, we were in our element playing games from hide and seek to cricket. It also meant we learnt a bit of sign language with the help of a book and the children. All the children were so friendly and seemed pleased to have us there. It was sad to leave.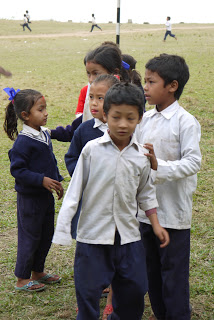 We taught grade 1 to 5 and acted as assistants to Mrs Sharmila (the English teacher who we nicknamed ShamSham), or taking classes ourselves when she decided not to turn up, or sit picking her toenails in the playground!! At first this was daunting to be left responsible, but we soon got to grips with the text books and had lots of fun coming up with our own exercises and playing hang man, when we got stuck for ideas. The children were very enthusiastic and always asked for homework or man pictures (smiley faces). We started giving drawing lessons before school with 30 eager children and a teacher sitting silently and concentrating hard. Mrs Sharmila became our Nepali aama (mother) for the 4 weeks in Nuwakot. She invited us to her house, often for very sugary tea and biscuits and took us on an outing to have a picnic with her husband and her in the forest by a temple.To our amusement, holy days (religious days off) came frequently, almost every week and sometimes 3 in a row. We never knew until the day before! These emant we could enjoy the village of Bidur, wandering around and seeing the familiar faces of the children, visiting the palace and playing with the Dumb and Deaf children.
Trekking came midway through our placement, and was a nice break from the isolation of the village. We were reunited with the other volunteers and had loads of stories ot share. The 4 day trek was definitely long enough for our lazy natures, enhanced by the relaxed ways of village life. It gave us a taste of the amazing views of the Annapurnas, sunsets, lakes and scenic villages along the route. We even had a day when English weather had tracked us all the way to Nepal. We got soaked and were in bed by 4 pm, eating our vital supplies of chocolate. We had an amusing part night for our return, when the previously introvert porters let themselves loose on the dance floor! We had a blissful day in Pokhara, reconnecting with home over the internet, and eating as much Western food as possible. During our next 2 weeks at Nuwakot, the travels diarrhea kicked in and we were thankful to have come through an organisation such as GVI, due to the help we were given. Transport, medical appointment and accommodation were arranged for us for a check-up in Kathmandu. Thank you Ruth!
Laura Craig Harvey and Louise Mosely – 2012 6wks in Nuwakot
Subscribe to our Blog
GVI on Instagram
Sorry:

- Instagram feed not found.
GVI on Facebook