June 2013 Monthly Achievement Report
15th June 2013

Luang Prabang, LAOS
Rising to the Charitable Trust Challenge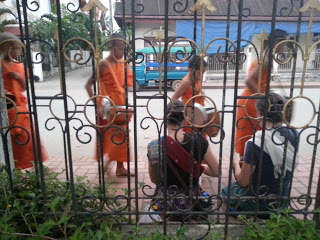 From 10th to 14th June GVI volunteers and staff rose at sunrise to participate in the daily Buddhist practise of giving alms to Monks and Novices. This was the Charitable Trust Challenge that we set ourselves to raise much needed funds for the Laos Charitable Trust Project – http://www.justgiving.com/ctchallenge-laos2013



GVI Laos raises money for disadvantaged students, especially Novice Monks, to receive sponsored English tuition and/or scholarships for further education ie. completing Secondary Education or Post – Secondary Education – tertiary or vocational . In addition to these sponsorships the annual CT Challenge provides an injection of much-needed funds in support of the Lao community and temples with which we work.
Volunteers involved in the project during the week starting 10 June took part in our CT Challenge. Their friends, family and colleagues, along with past volunteers and their friends, family and colleagues and other sympathetic patrons sponsored our GVI volunteers and staff in our endeavours by donating to the Charitable Trust Challenge. A total of $3600.90 AUD was raised.
The annual challenge gets to the heart and soul of Buddhist Lao culture and practise. Although this is something many volunteers elect to observe or take part in at least once during their project, our commitment to the 5 day alms-giving was in-line with local habits; many locals, especially women, give food to the procession of passing Buddhist temple inhabitants every single day, with starts at early as 5am!
Sincere thanks to all who supported this challenge. Stand by for further reports on how this money will be used.
http://www.justgiving.com/ctchallenge-laos2013