Chasing ghosts... in the footprints of Costa Rica's largest predator!
By Ana Berninger
3 years ago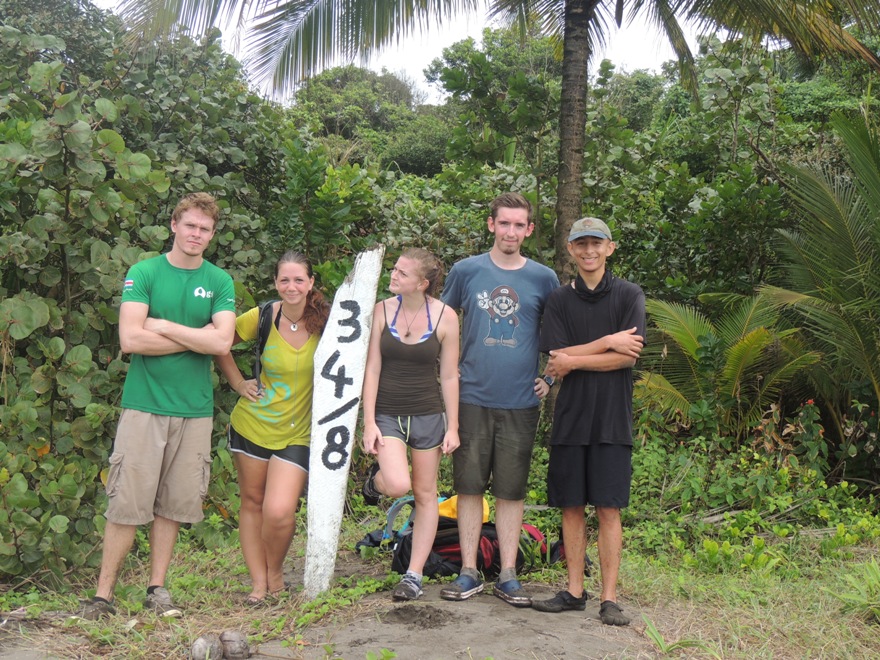 Every Thursday five volunteers and staff hike the 14 ½ mile stretch of beach between base and Tortuguero. The goal of the strenuous survey is to collect data on turtle and jaguar tracks as well as predated turtles. As one of the volunteers chosen to be a member of the jag team this week I was excited as well as curious to learn the level of difficulty it would take. Leaving at 5 a.m. Thursday morning the five of us (three volunteers and two staff members) were equipped with all of our essential gear including five litres of water and the jag bread we had made the day prior for lunch. Each of us are assigned a role (vegetation to look for jaguar tracks and predated turtles, GPS, books, high tide line to look for turtle tracks, and rest) and rotate positions every three miles.  I opted to walk in the vegetation first as it is the most physically demanding role I figured I would get it out of the way. When we began our walk it was sunny but since we are in the rainforest it surely lived up to its name and the clouds inevitably rolled in. Through the heavy rain we trekked through the sand and were still able to spot jaguar tracks in miles 6-9 as well as work five predated turtles. Thursday also proved to be a day of romance as we noticed several couples of sea turtles mating close to shore and tumbling in the surf. At the end of the 9 ½ hours it took to reach Tortuguero at mile 3 4/8, we had seen a total of 240 fresh, full moon turtle tracks, a number much larger than the members of the previous week's jag walk recorded. Though it was tiring I am happy to report it was easier than I had expected, and feel accomplished to have made it through the soft sand, rain, and flies all in the name of science.
Subscribe to our Blog
GVI on Instagram
Sorry:

- Instagram feed not found.
GVI on Facebook