Buenos dias from Cloudbridge! We arrived here about 4 weeks ago; and you'll have to forgive our tardiness on filling you in, but our heads have been in the clouds… literally!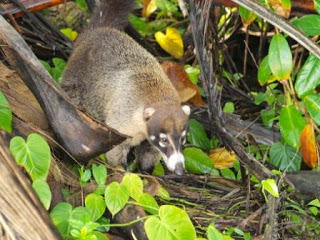 After spending some time getting familiar with our new surroundings, and getting acclimatized to the much higher elevation along with much steeper, rockier, slicker, Indiana Jones-style trails, we were ready to begin our surveys of the reserve. We begin surveying about 5am, meaning we must wake up, get ready, make breakfast, and hike to our starting point all before the sun rises. The buildings here run completely off hydro-electric and solar power, and after a gloomy and rainy weekend this meant there had not been enough sunlight to power the home we're staying in.  This first day of surveys, therefore neither of our alarms sounded. However, full of anticipation we had both woken up in time to still manage a survey. After scrambling around in the dark trying to find clothing and cook breakfast, we got to our starting point for 5:15 am and began our slow pace up the trail, eyes alert for any wildlife to record. Reaching the half-way point and only seeing five birds, whilst walking at a speed a snail would scoff at, you can imagine one's eyelids starting to get heavy; but before either of us could be seduced by the sandman we were startled to attention by a sudden thud to our right…and then another…and another.  Our eyes were getting glimpses of brown darting through the forest, and we heard huffing and grunting coming from the tree right next to us! Not knowing whether to run for our lives or reach for our cameras we looked up to see a huge White-nosed Coati shimmying down the tree! As she led the escape, three other smaller juveniles dropped from the trees surrounding us to run further up the trail. As we continued on our survey the band of coatis, not realizing we were going to follow along the same path they were, performed their rain-dance for us twice more. Not even at Jalova had we seen a single Coati, and now seven of them had rained down on us! So all-in-all our first survey turned out to be quite fruitful!
-Claire and Olivia, 6-month Interns
Subscribe to our Blog
GVI on Instagram
Sorry:

- Instagram feed not found.
GVI on Facebook