It's Friday again –
time to go to the Jungle Shower!
Once a week we bring the Street Kids to a natural spring in the forest (you could also call it a jungle) so that we can do their laundry and they can take a shower.
The kids don't have running water at their home so it's their opportunity to properly wash themselves.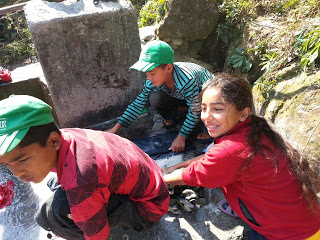 Shreeram, Bijay, and Asmita doing their laundry
It is always lots of fun for the kids and the volunteers.
After the hard work of doing the laundry and the bravery of jumping into cold water we eat snacks together.
Especially in winter it's nice for them to warm up by eating a bowl of hot soup or noodles.
So Fridays are always full of action and fun and by the evening you definitely appreciate your washing machine!
J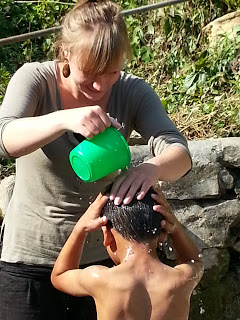 Judith help Pavan have a shower