International Women's Day: Are You Ready For Gender Parity?
By Tyler Protano-Goodwin
3 years ago

As the political discussions in the United States heat up a central element of the conversation has been gender (of course there is the whole Donald Trump conundrum as well, but we'll leave that one for another time).
With Hilary Clinton running for the Democratic candidate the very fact that she is female has been causing quite the stir. As a woman, is she capable of such high-pressure leadership? Are people simply throwing votes her way based on the fact that she is female? Will she be able to succeed in such a male-dominated world?
The fact that these questions have even entered into the discussion brings one very important realization to the forefront, gender equality is far from a reality.
Introducing International Women's Day
March 8th is International Women's Day celebrating the economic, cultural, social, and political achievements of women. However, the day also serves as a call to action for accelerating gender parity. Last year's theme was "Planet 50-50 by 2030: Step it up for Gender Equality" which focused on working towards the United Nation's Sustainable Development Goals surrounding gender equality and this year the push continues.
Let's Get the Facts Straight
• According to UNICEF when it comes to education more than half of the world's school-aged females are not currently enrolled in school.
• Only 4.6% of high-powered companies have CEO's that are women.
• Worldwide it is still estimated that 1 in 3 women will experience some form of physical or sexual abuse.
• Looking at the United States the gender pay gap is still very much a reality. In 2014, it was reported that women made a mere 79% of what males did, that's still a 21% discrepancy.
• Honor killings still occur at startling rates. In India and Pakistan, it is reported that at least 1,000 killings occur annually in each country.

How You Can Get Involved
International Women's Day hopes to be the catalyst for change. This year the aim is to move from "talk to purposeful action" and citizens worldwide are being encouraged to pledge for parity. The idea is simple, everyone is encouraged to fill out an online form asking them to choose one of five action steps towards gender equality that they are interested in personally contributing towards.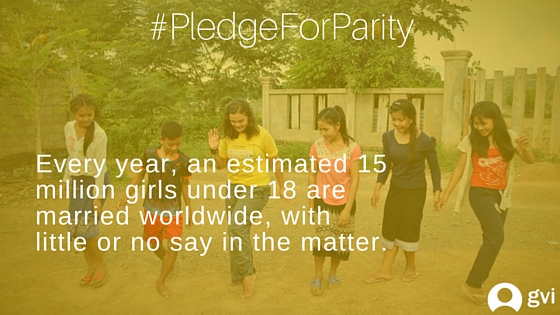 Beyond March 8th
Of course, making a pledge to take action means nothing without the follow through. So how exactly should one go about working towards women's advancement worldwide?
• Join international efforts to empower women. Numerous volunteer opportunities exist that revolve around empowering women. Activities vary based on the country in which they are run, but efforts are focused on career development, self-defense training, and self-esteem building workshops.
• Learn about the HeforShe discussion circle. Started by Emma Watson, this organization's prime focus is to get men equally involved in the fight for gender equality. The website provides valuable action kits making it possible to create events in your local community that facilitate change.
• Get involved in the "Girl Rising" movement and organize a showing of the documentary in your local community.
• Celebrate the women in your life. While this may seem like a small step, empowerment is key to change. We need to raise one another up and help women feel valued in the workplace as well as their home life.
• Hold a fundraising event for Dining for Women, invite your friends over for a dinner party and charge a small entrance fee. The money raised will be donated to grassroots organizations that bring job training, healthcare, and educational opportunities to women worldwide.

What Are You Waiting For?
There are plenty of ways to get involved with International Women's Day on March 8th, it is simply up to you to figure out what you would like to do! Let us know in the comments section below how you plan on making a difference this year, we would love to hear your own creative suggestions!
Find out more about GVI's international, award-winning women's empowerment programs and internships. Assist with CV writing, self-esteem building workshops, English lessons, and more. Programs are located in various locations including Nepal, Laos, India, and South Africa!