Intern Voice - Who Killed Bobby B. Fletcher-Brown?
By Rhiannan Davies
5 years ago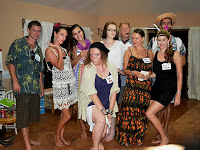 Social nights are an awesome way for members of any team to come together. And what better way to kick off tradition than with a classic murder mystery party? Which is exactly what we here at GVI Manuel Antonio did. Now, some advice when creating your own murder mystery party: it involves a lot of intricate planning. I´m talking extensive character plots and backgrounds, confusing and extensive relationships between people, as well as objectives per character, scripted confessions, voting slips, costumes, and more! Yet come the Wednesday and there we were; a gang-lord's wife and daughter, a butler, a duchess, a homeless person, a failed professional surfer, out-of-work child star, a journalist, a sleazy businessman, and a professional 1920's dancer. All having pizza together – who would ever have imagined?
I must say everyone played their characters wonderfully. As the night went on beyond pizza, we had conflicts, a murder and accusations, questionings, manipulation of relationships, and one more murder before the 'police' arrived. After intensive questioning from the astonishing policewoman (I may have killed myself off to have time for a costume change), the murderers were revealed. As it turns out the Duchess (played by our lovely programs manager, Nick) killed Bobby B. Fletcher-Brown to cover up a secret affair, and desperate young journalist Thelma Winkley (GVI volunteer, Bethany) killed the homeless woman, Eileen Smith – played by yours truly.
As the evening wound down it was evident that despite the theme of the night it did bring us closer as a group. We worked together and had fun for the weekend, and it is still something we laugh about as a group. Just a word to the wise – giving yourself four days notice to plan something like this WILL result in an eventual blurred perception of reality and fiction.