Intern Leopard Research Project
By Charlotte Krag
3 years ago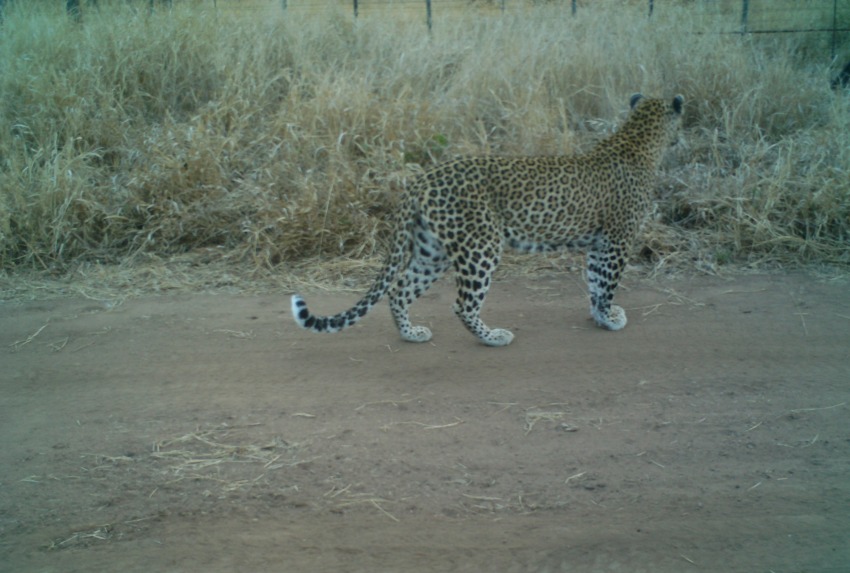 It has only been a month, but already have another intern, Grant Baker, James and I initiated a Leopard Research Project.
The project started after our first sighting with the dominant male leopard of the reserve, Tsavo. Impressed beyond limits we wanted more, but the many leopards on the reserve are not always keen to be seen. Interested in Tsavo and the elusive nature of the leopard we put our heads together and discussed how we could get more leopard sightings, and from that point on The Leopard Project was born. With a lot of help from one of the placement interns, James, we discussed ideas and set goals and aims for the project.
The aims of the intern initiated and intern driven projects are to determine the spatial distribution of the many leopards we have on the reserve, collecting data that can be used in the future for scientific research of leopards on a small fenced reserve like Karongwe, and monitor the leopard population density and how each individual leopards territories changes through time. The project also aims to be able to identify leopard tracks which we can collect data from, but also to improve the chances of locating a certain leopard for Karongwe game drives. This is a long term process where every single leopard track we come across on research drives, has to be measured both in length and width, and hopefully slowly build up a track-ID for each leopard on the reserve.
To collect all the data of where the leopard are and where their tracks are seen, we have used data collected by GVI for the last year of every leopard and thereby created heatmaps for each individual leopard so we know exactly where each leopard's territory is.
From the heatmaps we have so far placed 4 cameratraps. Three of them are targeting our 3 main leopard males, Tsavo, Scar and Xipuku.
Their territories combined cover the whole reserve, and placing cameratraps targeting these three males we also get the females and sub-adult male leopards, and we get to see how the three males are pushing or retreating the boundaries of their territories.
Since this is an intern initiated and intern driven project we have intern drives every Monday and Thursday. The cameratraps are moved every week within the targeted leopards territory, and Thursday is the day we relocate the cameratraps and upload cameratrap pictures. If we have any luck on getting some leopard pictures, these leopards have to be identified and data has to be collected and entered.
To secure no possible is lost and for curiosity we check the cameratraps for batteries and pictures every Monday, and Wednesday we have a team meeting discussing the cameratraps next locations as well as issues and new ideas for the project.
Hopefully this project will give us more details in to the elusive leopards of Karongwe and their life, but most important of all this project will provide us interns with theoretical knowledge and hands-on skills in wildlife research methods that we can use on our future placement and maybe further on in wildlife research related jobs.
This project is still in its starting phase, but with so much interest around it both from fellow interns and volunteers I am sure that our goals and aims will be reached and many fantastic leopard sightings will come out of this!