By Claire Bloomfield
5 years ago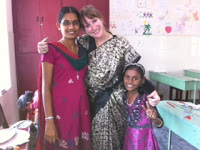 India! I am finally here! This place has been in my vision and heart for quite some time, and its reality is better than any Google search. Its energy is high and the people are lovely. Everyone smiles at you walking down the streets and respectfully asks about your origin. It is a friendly exchange of curiosity. This food is always good, and there is no such thing as a bad meal. This is unless you just don't like Indian food, but I have been here for three weeks and I have not gotten tyred of the food yet. Each bite is filled with flavours and spices that keep your mouth dripping for more…(water). Things move very quickly here, yet slow at the same time; the smells are sweet and next foul. There seems to be a balance of contradictions that I can't wrap my head around. Although I can see its rhythm, it is comparable to water- full of richness and ever flowing.
In my first three weeks I have found volunteering for GVI a blessing. I have been teaching Art and English at the girl home (Pratyasha Bhavan) while encouraging creative expression and thought. At times it can be difficult teaching Art to children who are not fluent in English, but this is all part of the challenge and excitement. Art is an amazing way to teach language. Using symbols, drawings, and paintings the children and I are able to communicate through visual dynamics beyond the spoken language. I can see their growth and curiosity evolving with every lesson, and with time the children pick up proper vocabulary. Unexpectedly the girls have taught me equally as much as I have taught them. I see their culture and they see mine; I teach them about mark making and I learn from their application.
The projects I have done with the children vary from paintings, drawings, sculptures, to craft exercises. I try to mix it up and be creative as possible with my lessons.
Outside of teaching I have spent my weekends and evenings relaxing, travelling, eating out, 'teaing up', and taking advantage of as many cultural attractions as possible. So far I have visited Munnar and Varkala. Both unique to themselves and must sees! In Munnar I visited the tea plantations, spice garden, market place and rode an elephant. Eeek! Yeah, the elephant was as cool as it sounds. It was huge, and its skin was much rougher than I expected. Although he had quite rude table manners as he snatched a banana right out of my hand! That's okay. Its eyes made up for the rudeness. They were majestic! As they stared back, I felt as if I was staring into Lord Ganesha's eyes himself. Ah, enough with the elephant. Varkala. There I mostly just bummed around the beach, drank too much tea, and did some reading. The tides were high and the crabs were active. Next weekend I'm am not sure where I plan to go, I just know it is not home. As much as I miss my family and friends, I am not ready to leave anytime soon. I <3 INDIA.