Incredible, this India...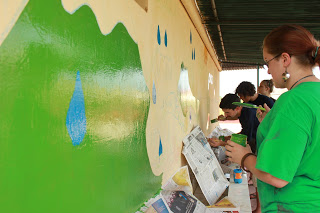 I cannot explain how much my life has been enriched by this experience. The country, the culture, the people, I have fallen in love with all three.
Eating with your hands, chasing children, street goats, getting Kylie off your chair, squat toilets, lunch at Prya's, the tiny chef, rain disco! PINEAPPLE SHAKE! "Time to make party!"smiling when you don't understand, riding elephants, sunsets at the fishing nets, Kashmere boys, sleeper-class, Dal Roti, Hello Kitty watches, Jutten, Sat's facial expressions, fat kids, Standard 8 boys, wrestling with Ross, bats on the backwaters, keyboard flip-flops, hot coffee with ice cubes, Billy's tiny nipples, tearful goodbyes, playing 'would you rather…?' stickers! Jim's sleep-walking, carrots at the XL Bar, bowel-updates with Ashley Pavitt, stray dogs, VARKALA! Halloween costumes, dirty feet, thunderstorms, leg-wrestling, moustaches! Making cranes with Kaz-San, Over The Deep Blue Sea, dancing, competitions, milkshakes at Loafers, Kieran's 'worm', the Sanjays, "bees on the knees", OY's, tuk-tuks, Club Cabana, sarees, Little Tibet, falling in rivers, film nights,  Asterix, the boys home, Gangnam Style… great times, great friends, great memories…
Subscribe to our Blog
GVI on Instagram
Sorry:

- Instagram feed not found.
GVI on Facebook