In case you missed it: GVI Laos April 2018 MAR
By GVI Laos Program Manager Leyla Isin-Xiong, Assistant Program Manager Katherine Ippolito and Education Coordinators Elizabeth Wells and George Williamson
1 year ago
GVI Laos Monthly Achievement Report April 2018: Lao New Year Schedule: Joint projects and Capacity Building
Objectives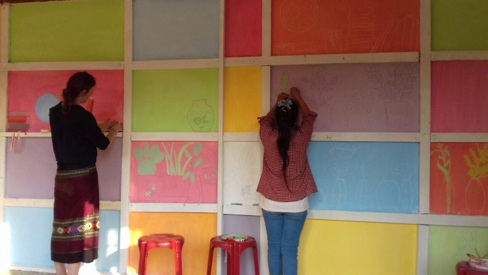 To provide educational opportunities to all students in the local community, regardless of socio-economic status, ethnicity and gender: To provide equal educational opportunities for both females and males.
Improving employment opportunities and socioeconomic status of community members.
To provide health, life-skills and vocational classes to the local community.
April marks the end of a Lao year and the beginning of a new one and as such, this April, regular classes were on hold for country wide celebrations known as Pii Mai. In addition to joining in on the festivities, GVI created a schedule of activities which focused on working together with the local community on projects and activities that shared skills and culture while also promoted capacity building.
A Collaborative Classroom Mural
In an effort to brighten up our new classrooms, students studying in our Art classes were tasked with creating design ideas for the walls. Students, volunteers and staff worked together to make these ideas come to life by paining the new walls. The end product was beautiful; the beams supporting the wall inspired the students to create an artistic 'bookshelf' with everyone creating their own painting of real-life items that you would find on a bookshelf in a classroom.
Culture Talks: Buddhism and Hmong
April also saw Culture presentations developed and delivered by our local students, NSP and staff.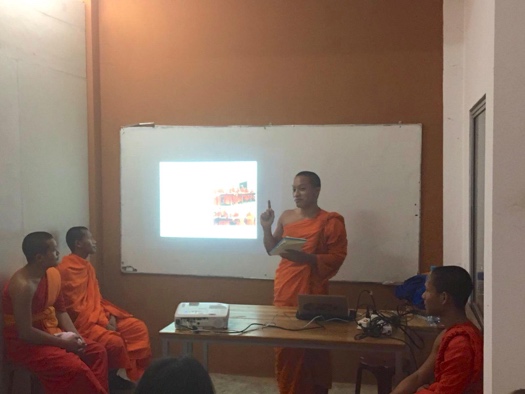 As part of their English language program, 4 of our long-term Monk students studied presentation skills and then developed and delivered a presentation about Buddhism and life in the temple to share with volunteers and outlined the religious element of the Pii Mai celebrations. In addition, our Community Liaison Lyly and NSP Nin, delivered a presentation about Hmong culture for volunteers and staff, providing a unique insight in to one of Laos' largest ethnic minority groups. These talks were simultaneously a fantastic skills development opportunity for our students and local team and a unique opportunity for volunteers to gain knowledge and be exposed to the diversity of culture and ethnicities in Laos.
Teacher Training
Finally, the students became the teachers throughout April. Three young locals were invited to join GVI's Introduction to TEFL course, to improve their teaching skills and gain practical teaching experience. GVI Laos is always happy to encourage any locals, interested in the field of education, to join our trainings and gain practical experience teaching classes in hopes that someday these locals will be confident in teaching the next generation. We were so impressed at how much progress they all made in both the theoretical training and also within their practical experience inside the classroom, where they taught in partnership with a volunteer or GVI staff. Two of the Monk students have been teaching beginner English classes at their respective temples, and want to use the TEFL models they've learned to prepare more comprehensive lesson plans; meanwhile Jerry, the other local who joined the trainings, had just recently been employed by one of GVI Laos' local partners as the teacher at The Bright Centre in Nam Thuam, and hopes to use these knew TEFL skills to teach and potentially train other local teachers out there.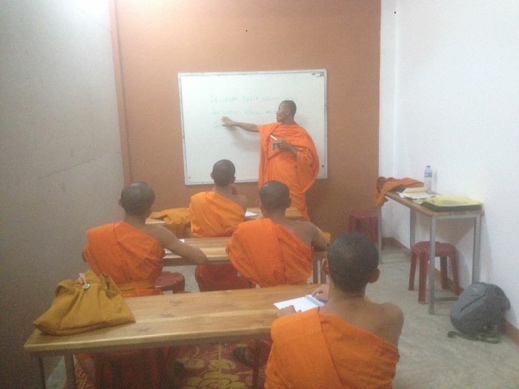 Overall, while not a regular month, April provided the opportunity for some significant collaboration, training and capacity building at GVI Laos.