A Few Hours Farming on Moturiki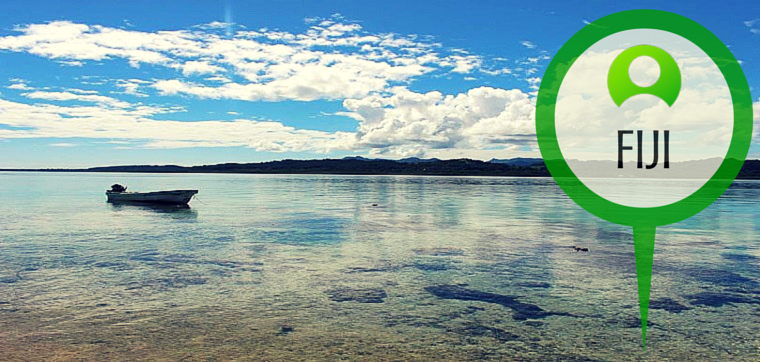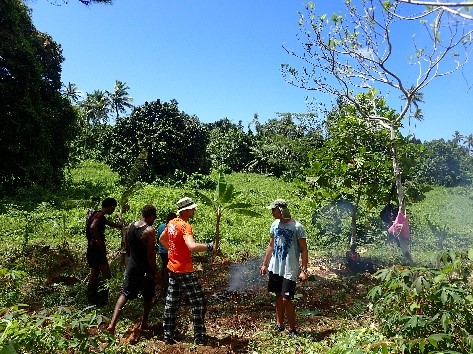 Week one complete! Our first week has already passed, a lot of Volunteers have chosen to spend their weekend in Suva, Studying and Relaxing on base.
For myself and four other Caqalai Volunteers Sophie, Daniel, John and Atjay we chose a different path: we were invited to assist with Moturiki's Veggie Farm.
Saturday morning entailed taking a short boat journey to neighbouring Island, Moturiki for a spot of farming, Fiji style; replanting Cassava and digging plots for cabbage. Upon arrival to Moturiki, we had a short (10-15) minute walk into the lush farming countryside, through a mangrove forest, over still clear water streams, on rickety foot bridges, with an abundance of tadpoles darting this way and that underneath.
At the chosen site for the cassava replanting, which was on a steep hillside facing the midday sun I could already see an extensive amount of work had been done to the hillside on previous forays; lots of fresh Cassava shoots reaching for the sun half a metre from the ground. Our 1st job however was to clear a patch of shady ground of scrub for us to rest and store our supply of water. We weren't required to bring food as that was to be provided from the very place we were in throughout the course of the day, which for me was a particular highlight.
I should probably mention at this point, our expedition leader for the day; Kolo.
Kolo is Caqalai's handyman and local farmer for the community, he has also been one of the most welcoming and friendliest of people I have ever had the pleasure to meet.
It wasn't just kolo however, there were other locals helping too. Sly, Anasa our Boat Captain, Tuks, Eddie Guns & La'ni the youngest of us all but with the most to say.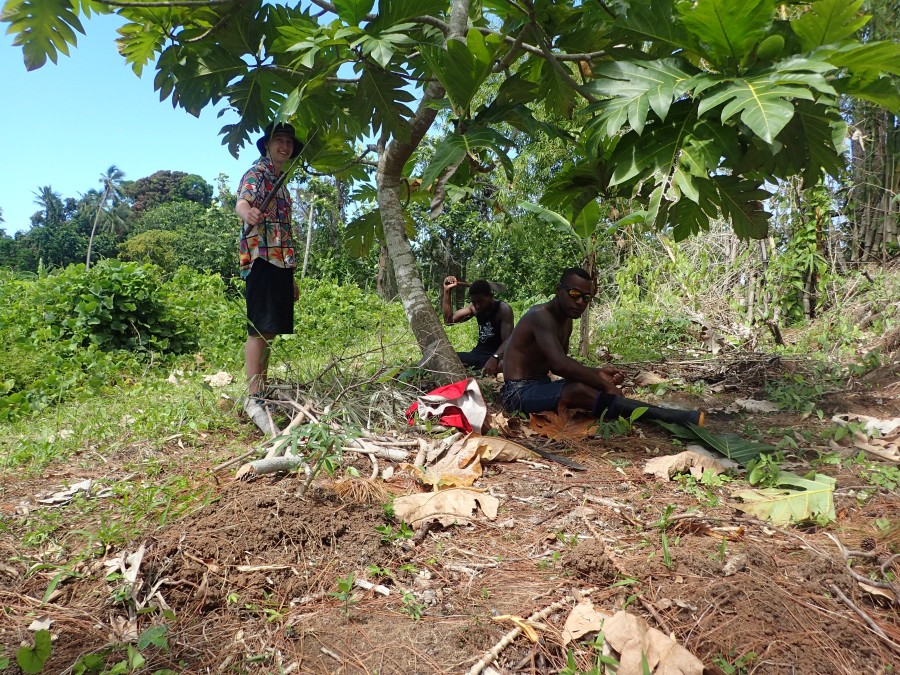 Between us all, we set about our work for the day with good grace, clearing scrub, digging rows of segregated plots for single cassava plant roots. We also dug & turned over two cabbage plant plots on level ground at the bottom of the same hillside.
It wasn't a case of working in regards to a certain amount of hours, Kolo had in mind what he wanted done for the day & once that was to be done he would be happy. Although the work was hard, not only due to the task at hand but for the obvious heat and humidity too, it was a very enjoyable experience, mainly due to the social aspect but the frequent water stops in the shade helped too.
Early on Kolo set a fire, one to help keep the mosquitos at bay and secondly, to cook Cassava for snacking on throughout our day. I had eaten Cassava before but after eating it straight from the embers, it had a beautiful creamy and obviously smoked flavour, when this is washed down with the water and the jelly like flesh from freshly chopped coconuts taken from up in the branches by Atjay and Sly; I can tell you, sat on that hillside, covered in sweat & cooling in the breeze, it was hard to imagine the possibility of a better meal.
We managed to complete the desired amount of work for the day by early afternoon & when we were told to pack up our tools & head back to the boat, I'll be honest, I could have quite happily stayed & set about it some more however there was Lovo to be prepared and that in itself is another delight of Island life.