On Tuesday the 26
th
of March we experienced the festival of Holi.
This takes place on the last day of a week long festival, which celebrates the death of Holika.
Holika was an evil woman who conspired with King Hiranyakashipu to kill his son, Prahalda.
Believing she was protected by Lord Vishnu to whom Prahalda was a devotee, Holika jumped into the fire with Prahalda, but only Prahalda was spared.
The people of Pokhara came out en-masse to throw water bombs and smear one another with powder of vibrant colours.
We visited 'Streets' (a small orphanage supported by GVI) and battled with the children there on the local playing field.
Needless to say; we lost, leaving soaked and multi-coloured.
It was a great day.
Happy Holi!
Volunteer Simon Kettlewell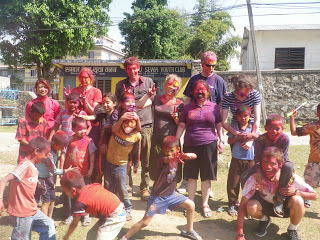 Volunteers and the Street Kids covered in colour for Holi Festival