Happy Days, Featuring Glitter...
By Rosie Robinson
2 years ago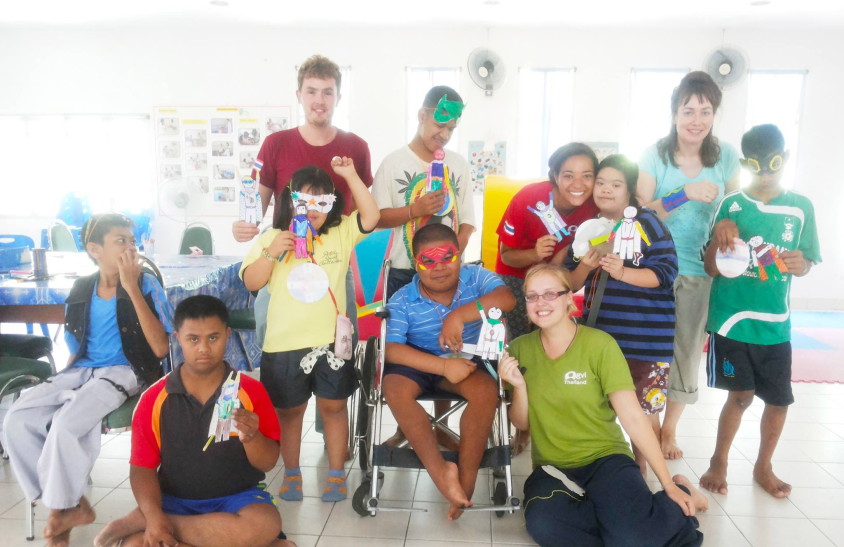 As a six month Community Combined volunteer, much of my week is spent at the Camillian Social Centre for children and young adults with learning and physical difficulties. I hadn't had much experience working anywhere like this, so I was nervous, to say the least. I worried that I wouldn't know what to do, or that I wouldn't have a clue how to teach! Within about a week, I started to forget that I could ever have been that nervous. Both towards me then, and watching them with new volunteers since, I'm constantly amazed by the kids' openness and acceptance of new people coming into their lives. Their warmth and happiness is infectious and the Camillian centre very quickly became the highlight of my week, every week.
It's been three months since I first started volunteering for GVI. In that time, I have spent at least three days a week at the centre. We also have to prepare crafts and activities for the next day, which can take a lot longer than you expect (and I quickly learnt not to leave things until the morning!). This usually involves a bit of time googling ideas around our theme for the week, talking about the different crafts that we have found, and a whole lot of creativity – our resources are pretty limited, and you have to get quite inventive with cardboard, paint, glitter, and toilet paper rolls…! We also teach English to some of the kids there, so we spend time preparing lessons and flashcards for the following day. The days at Camillian generally follow the same pattern. We begin by doing some basic physiotherapy with the kids, followed by teaching some English words based on our craft theme for the week. This can be anything from Spring to Superheroes, and we try to keep it exciting and different each week! We'll eat lunch, then play football and have a chat with the kids before we start the craft for the afternoon. You spend a lot of time just talking and getting to know everyone, as well as understanding their sense of humour and just being part of their world. Sometimes we take the kids to the beach, which is loads of fun for everyone involved. We play games, eat picnic food, and just have a lot of fun on the beach.
All of this, alongside teaching other classes and visiting the local orphanage, keeps us very busy throughout the week, and we've been known to have one or two late nights to make sure that everything is sorted for the next day… However, nothing can quite compare with seeing the joy in the faces of the Camillian kids when they've made something they're proud of, or being part of their jokes, or watching them achieve things that might have once seemed impossible. The realisation that so many children and young adults with learning and physical difficulties in Thailand receive little or no support or attention is heartbreaking, and makes you realise how lucky the kids at Camillian really are, just to have a centre to go to. One of the other things that will strike you at Camillian is the genuine happiness in each other's company. Some of them come from extremely hard backgrounds as well as living with a disability, but the overall feeling of our day is simply happiness, and I am constantly inspired by their attitude to life. It is a genuine privilege to be part of their lives (even if you are constantly covered in glitter!)
 Written by Rosie Robinson (England), 24 week Community Development volunteer
Subscribe to our Blog
GVI on Instagram
Sorry:

- Instagram feed not found.
GVI on Facebook