GVI Luang Prabang, Laos, Charitable Trust Challenge 2016
By Luke Tavener
3 years ago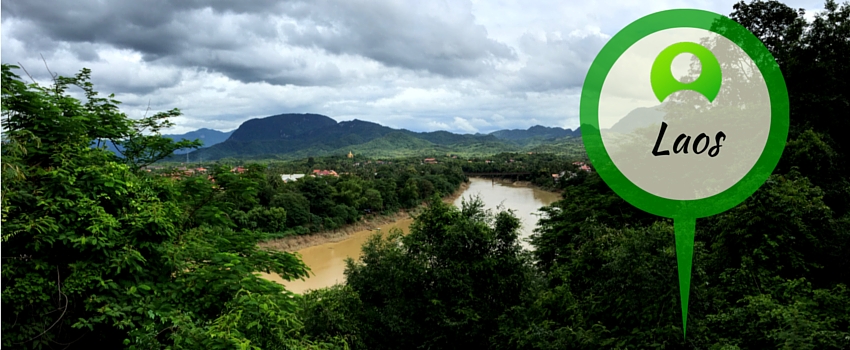 This week staff and volunteers gave up their sleep to take part in the annual GVI Laos Charitable Trust Challenge. For the past five days everyone woke up at 5am to participate in the traditional practise of Alms giving in order to raise money to help secure much needed funds to help us provide educational sponsorships and classes as well as medical and general support for disadvantaged students in the community and temples with which we are connected. This year, this includes our girls program. In June 2015, we began teaching a group of 35 girls from an organization who rescues girls who had been forced or tricked in to the sex industry.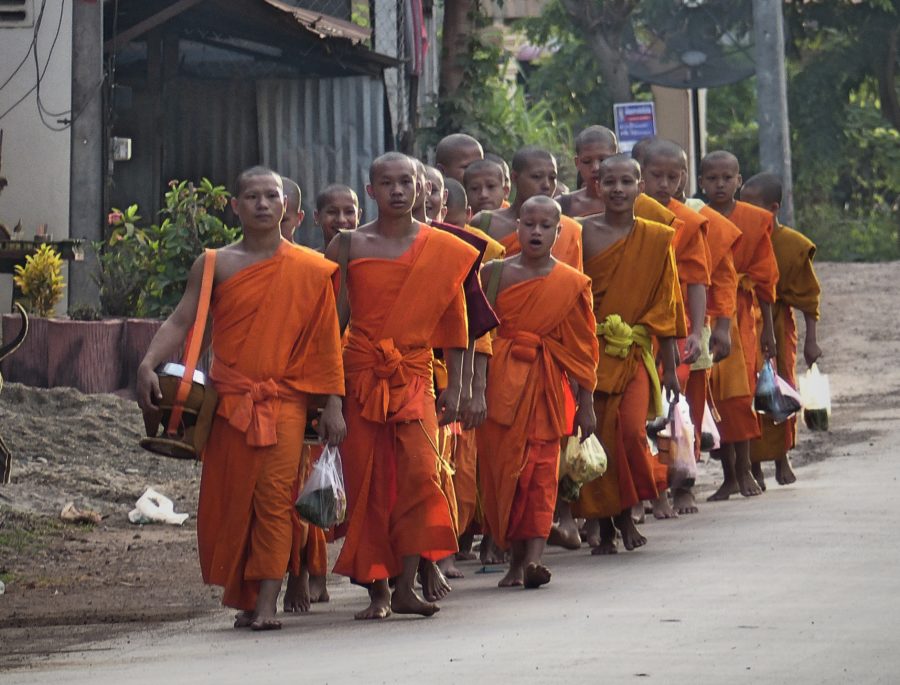 Here is an excerpt from one of our previous blog series wherein a Novice describes the process and the significance of the Alms Giving ceremony;
'Every morning at dawn monks and novices walk barefoot with their alms bowls through the town collecting food and other offerings. They walk single file grouped by temple; Monks first, in order of seniority, and then Novices. They only eat two meals per day both in the morning.  In the afternoon they can only have liquids. In addition to giving alms, villagers often bring other food (vegetables, fish, soup, fruit, etc… directly to the breakfast at 7 am and lunch at 11am.  In addition to alms food, villagers often bring other food (vegetables, fish, soup, fruit and etc) directly to the temple to supplement the alms food, which is mostly sticky rice. Most locals give sticky rice during alms. The giving of alms by lay people is called Sai Bat and the receiving by monks and novices is called Take Bat. Collectively it is called morning alms.  Lay people line up along the streets at dawn each morning, with mats to sit on and umbrellas when it rains. Traditionally they drape a scarf over their left shoulder and remove their shoes. When the long line of monks and novices appears in the distance, they raise their bowl of donations and bowl in prayer to bless what they are about to give with positive energy. The Lao Buddhists believe that through giving alms, they receive merit for their life which counteracts any negative Karma they have accumulated. As the monks and novices pass by, people bless each offering again as they place it in the bow (being careful not to touch the bowl or the monks' or novices 'robes especially women).Men can stand when giving alms, but women must sit. The monks and novices are meditatively silent with eyes averted, though when you get to know them you are likely to get a smile, or greeting. As their bowls fill up they may offer some back to the lay people as a blessing and a form of respect to those who give often, or touch their lives in other kind and generous ways. You will also see poor children alongside the monks and novices collecting the extras to share with their families. This is especially noticeable on festival days and moon phases when more people give alms than on the average day. It is inappropriate to give alms to the poor children. Alms are only for monks and novices so only monks and novices may give to the poor children during morning alms. It is ok, however, to give to the poor after all the monks and novices have passed.'
The annual Charitable Trust Challenge not only provides the volunteers a unique experience by taking part in the local traditions with the community but it is also an opportunity to witness and give to some of the Novice students that we sponsor and teach.
Day One: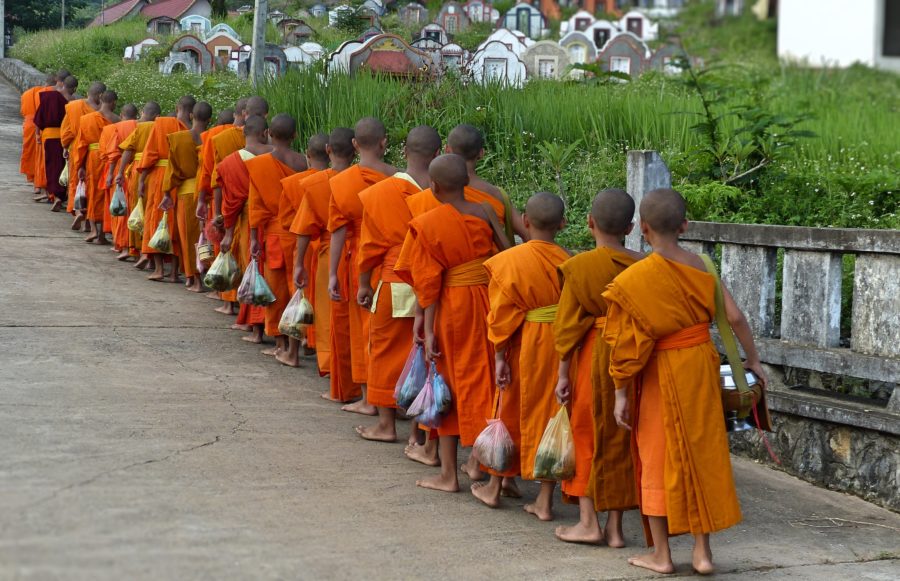 The week started with an early rise to give Alms at Wat Pasaviet. GVI Laos has a long history with the Wat Pasaviet, as a number of the temple's Novices having studied with us for a number of years. With Alms giving complete, all the Novices then turned around and blessed the volunteers. Field Staff Member Isadora Martins was lucky enough to capture some of it on film and posted it on Instagram.
Day Two:

On Tuesday everyone gave Alms at the top of the road where we live. This allowed us to really get engaged with our local community, sitting side-by-side with our neighbours, taking part in this sacred tradition, giving Alms to our local temples.
Day Three: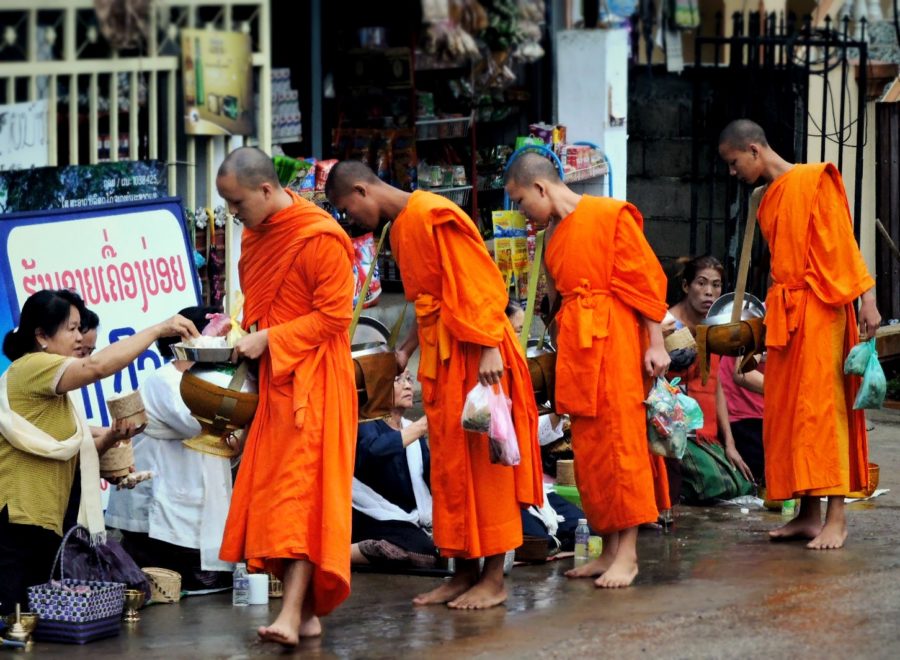 The following day, despite the rain everyone preserved and the team split up to give Alms at two different temples, Wat Na Luang and Wat Ho Xieng. Both temples are and were home to Novices and ex-Novices that study or have studied with GVI Laos over the years.
Day Four: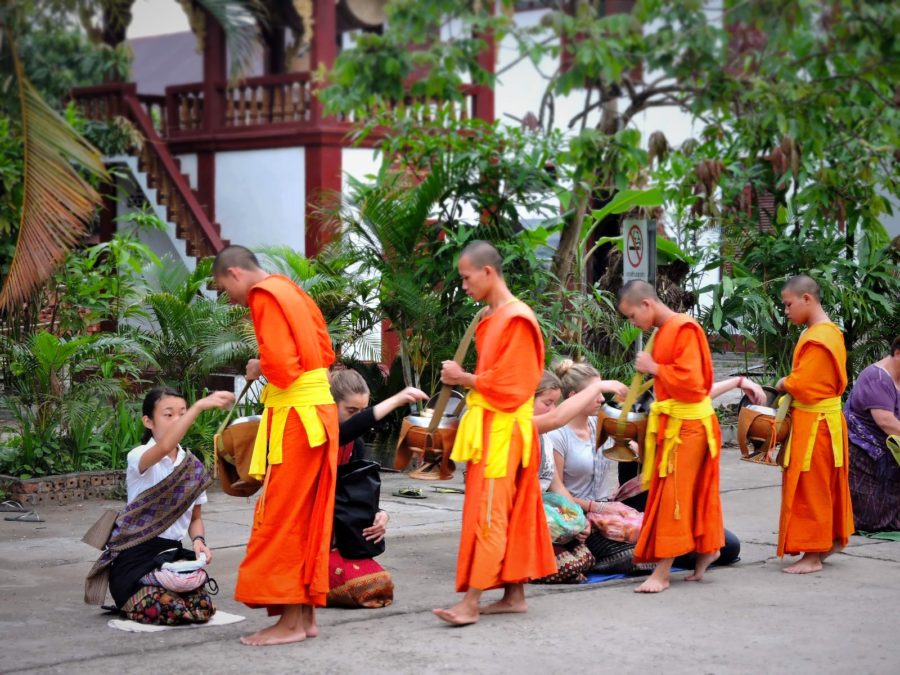 Thursday was a very special day as the team once again split to give Alms at Wat Na Sang Veuy and Wat Mano. Wat Na Sang Veuy has been a subject of the Charitable Trust before, as with the help from previous donations we were able to sponsor the construction of their toilets. Wat Mano is also one of the two temple schools we teach at and it was an incredible experience to give Alms to so many of our students.
Day Five: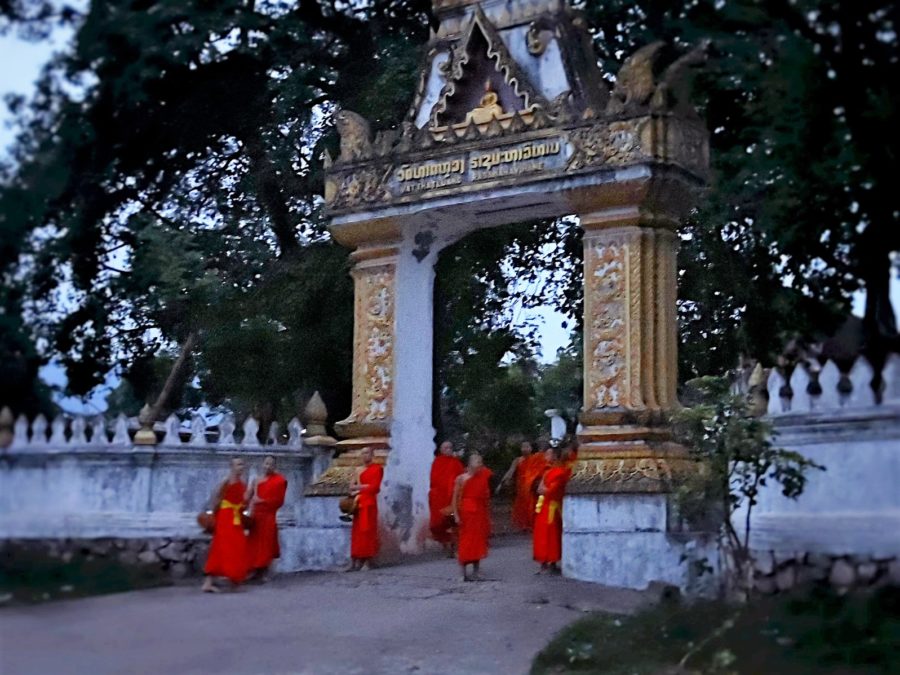 The final day was a day of new and old. Tired from all of the early mornings, the team split up for their final Alms giving at Wat That Luang and Wat Syrimoungkoun. Wat That Luang is a temple that GVI Laos has had a long history with and we were invited to give Alms at Wat Syrimoungkoun by one of our newest students.
The entire week was an incredible experience for the volunteers, allowing them to really give back to the local community while witnessing some of their students' faces light up when they recognised their teachers participating in this sacred tradition.
The volunteers are having a well deserved break this weekend and GVI Laos would like to express a very big "Khop jai lai lai" (thank you very much) to all of those of took part and to everyone that has donated! Although the challenge has ended, you can still contribute to our wonderful cause at: https://www.justgiving.com/fundraising/Gvi-Laos-Staff
Written by Field Staff Member Luke Tavener
Photos by Field Staff Member Luke Tavener & Isadora Martins