By Finn McSkimming
3 years ago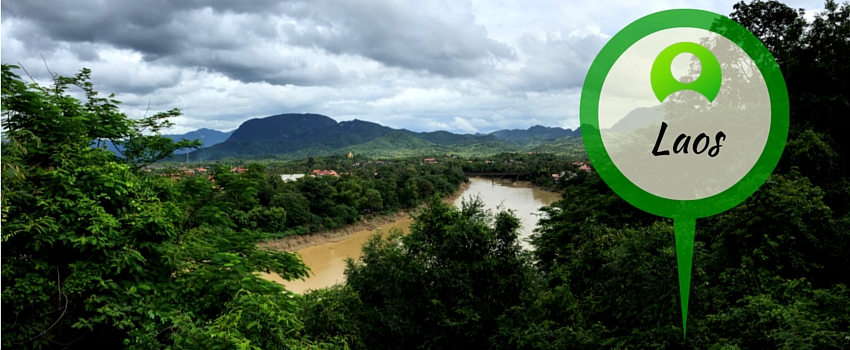 "Ok, what if I can't teach? Yeah, I studied English at school but I have no idea what the past perfect continuous is! I'm literally on the other side of the world, there is no way I can do this for 12 weeks"
As you can tell, I was a nervous city boy who, despite being away from home for long periods before, was terrified at the thought of flying 20 hours across the globe to teach a language I speak fluently but knew nothing about.
When I landed, that all changed.
I was met at the airport by warm smiles, welcoming jokes and most importantly my own named placard. I felt very important. Driving through the beautiful Luang Prabang I immediately began to feel like I'd made the right decision. It was from my first night there that I realised firstly, how lovely the people are and secondly, how much they need organisations like GVI. I got to talking with the receptionist at my hotel. Upon discovering I was here to teach English he thrust a notebook into my lap and asked if I would help him with some pronunciation. For that to happen on my first night demonstrated to me how much, even Lao locals, rely on English to further their career prospects.
The next day came bright and early after a night of broken traveller's sleep. The one thing I didn't need right now was a 3 hour initiation into GVI, right? I couldn't have been more wrong. The staff on base were so lively and welcoming I felt straight away like I was already part of something great.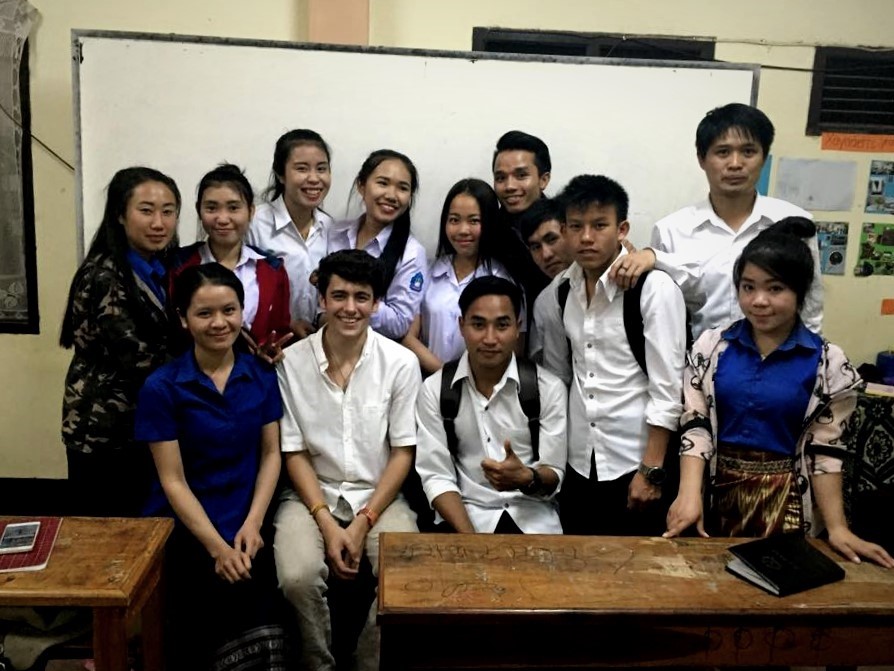 After two days of incredibly rewarding TEFL training, my fellow volunteers and I were thrown into teaching. The only thing I've found that can match the thrill of Crystal Palace reaching the Cup Final is stepping into your first class, not knowing who you're going to get, armed with an over-zealous lesson plan and a map to show that "I am from England. Who knows where England is?" I certainly wasn't prepared for the level of engagement these students would show. Thinking back to when I was at school, neither I, nor any of my classmates, were even half as enthusiastic to learn a foreign language as these young people are.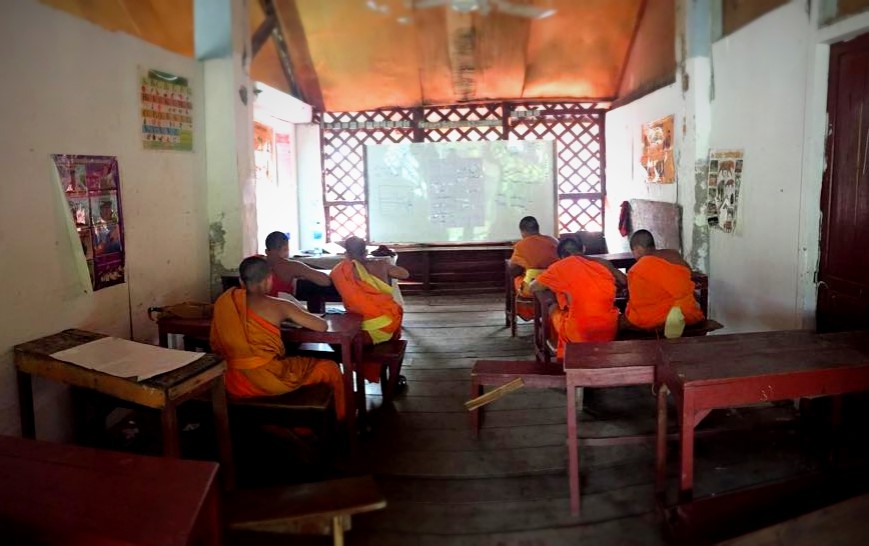 The next on the list of life-changing experiences presented to me by this project was the immense pleasure of teaching Novice Monks. It's very easy initially to generate a picture of these novices on a golden pedestal, not to be touched, looked at in the eyes, even spoken to without permission. And, of course, for local Lao people the novices and monks are highly revered, and this must be respected in the classroom. But after teaching two Novice classes for pretty much the entirety of my stay I realised that they are all young men living together, developing a heart-warming brotherhood, all while learning the world's 3rd most spoken language in such positive and engaging learning environments. It is an especially beautiful thought to consider that for the vast majority of these young men joining the temple means food, a solid roof over their heads and education previously unavailable, something that we as English teachers can be incredibly proud of.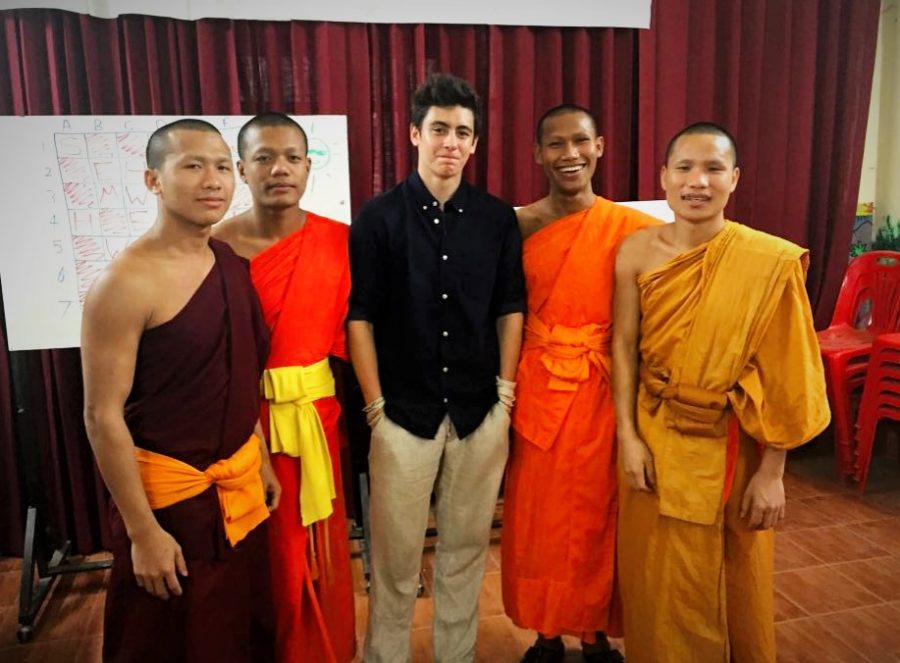 I was lucky enough to be involved in GVI's partnership with a local organization that rescues girls who have been tricked or forced in to the sex industry and was teaching one of the three all girls classes. I was their first male teacher, a responsibility I took on with great care and caution. From the moment I stepped in the classroom I was bombarded with high-pitched giggly screams of "Oh teacher, teacher handsome, teacher beautiful" I went more red than their high school neckties. Following the trend of friendliness of all Lao people I met, these girls are so fun and full of life that it's very easy to forget where they've come from. I was in the middle of class a few weeks in and in the middle of teaching "eat at a restaurant" I had to hand over to my teaching partner and step out of the class for a minute to process just what these girls had been through, some of them as young as 10, and yet they remain so cheerful day in day out.
Outside of the classroom, the other volunteers are yet again brilliant people. The kind of people who volunteer on such a project are 9 times out of 10 going to be genuine, caring and fun individuals, each with their own story to tell. Alongside the impact on the local community, GVI gives its volunteers the experience of a lifetime, made that much better by the ability to share it with other like-minded people going through the same thing. I have made some very good friends out here.
I set myself the task of summing up my experience in 500 words. As you can see I failed, simply because were I given the choice I would write a novel on all the indescribable moments I've experienced as a direct result of my work with GVI. Every day made me happy, and every day I was amazed by something new. So for that and everything else, thank you GVI Luang Prabang.
Written by volunteer Finn McSkimming