GVI Ao Luk wins a National Award!
GVI Ao Luk, Thailand recently one a national award for our partnership with the Ao Luk Non-Formal Education Center!
Thailand's Non-Formal Education Centers
are part of Thailand's Ministry of Education offering educational opportunities for students who drop out of school but decide to go back and complete their primary and secondary education by studying a half day per week at a satellite center in their own community and working through project based work at home. Many students are non-traditional students and Thailand's NFE Centers focus on assisting rural communities and minority populations.
GVI has been partnered with the
Ao Luk Non-Formal Education Center
since June 2007. Since that time GVI has taught
30
terms of free English classes for the Ao Luk community at the nearby NFE Center office, awarded
1,717
certificates of attendance for students completing these classes and have taught
6,188
hours of classes here to date. GVI Ao Luk volunteers and staff have also assisted with literacy days, English camps, summer camps, library events and grand opening events for the NFE satellite centers throughout Ao Luk. GVI construction projects and teaching volunteers have contributed close to
$6,000
of direct funding as well as man (and woman!) power to improvements and renovations to the NFE Center's educational facilities in Ao Luk.
In March 2011, GVI Ao Luk was awarded for their contributions to the NFE Center. Jill Walker, GVI Regional Director and Charlie Crowson, Project Manager, travell\ed to Bangkok to recieve the award. GVI placed in at the #1 private organisation partner in the Southern region of Thailand. Alongside other partner organisation such as local libraries, museums and prisons, GVI was the only international organisation represented ranking GVI as the #1 international partner for Thailand's NFE Centers! This is a huge honour as Thailand's NFE Centers have thousands of partnerships throughout the country. GVI Ao Luk is proud to be recognized for the work we have done.
A big thanks to all the volunteers, interns and staff that have helped to achieve this recognition and contributed to the achievements of the last 4 years. Thanks also to the Ao Luk NFE Center directors, teachers and students, as well as all our students and friends in the Ao Luk community for supporting GVI's efforts and making Ao Luk such a welcoming place to work!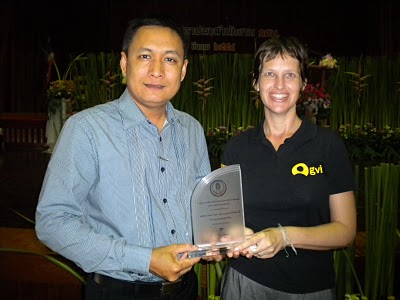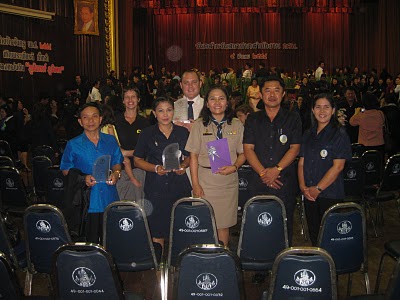 Subscribe to our Blog
GVI on Instagram
Sorry:

- Instagram feed not found.
GVI on Facebook