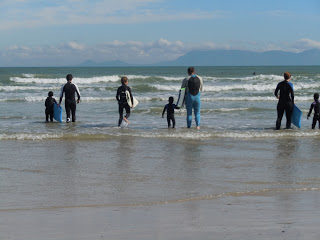 Recently three of our older children at the orphanage had the opportunity to go to with our surfing volunteers for a lesson.
We were grateful that it was a fine day and not too cold.

 

The three boys were really excited as they boarded the GVI bus for their adventure.

 

When we arrived at the surf school, they put on their wet suits and collected their boogie boards and we were off to the beach.
The first few waves made them a little tentative and cold so they weren't so keen on the idea but a few beach games, a bit of wave jumping and lots of encouragement and it wasn't long before they were back on their boards and having fun riding a few waves.

 

It was actually perfect conditions for boogie boarding beginners.

 

From the beach it was hard to tell who was having the most fun, the young boys or the volunteers!
It was great to see the children's confidence grow the longer they spent in the water.

 

It was also great to see the look on their faces as they lay on their tummies and rode in with the waves.
It was a great afternoon for all and certainly a great experience for the children and volunteers.
Subscribe to our Blog
GVI on Instagram
Sorry:

- Instagram feed not found.
GVI on Facebook