Flower Making at After School Workshop
By Rob Reid, Teaching Coordinator
3 years ago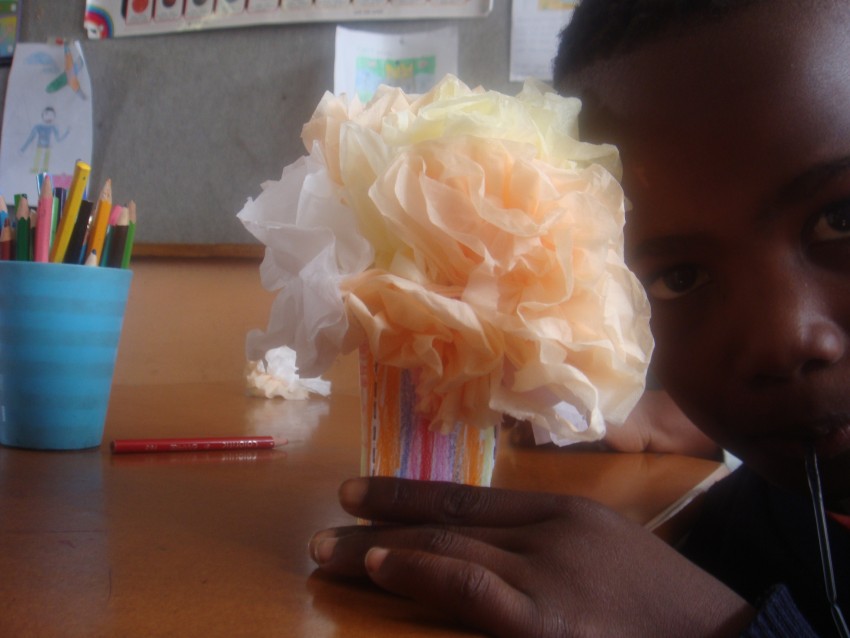 At one of our after school workshops at ACJ Primary School in Nomzamo township, we decided to make flowers out of tissue paper and create vases for them using paper. As is usual with workshop, an after-school program for any of the kids at ACJ who wish to attend, the children were lined up at least an hour before we were scheduled to start. Once all the kids had come in and taken their seats, we went through the rules of our classroom, which all of them know. Then we officially started the workshop by showing them what exactly they were going to be making this time. As examples, we showed them the flowers we had created – which they were all very impressed by and eager to get started. We began by passing out all of the pre-prepared supplies: tissue paper, a strand of wire, a sheet of paper with a vase design on it, and of course all the things they would need to decorate their vase uniquely.
Once they got started, things moved very quickly and before we knew it the flowers and vases were coming together, each one a little different from the next. Once finished, all the kids were very happy with what they had created. We had hoped to have a few flowers to display in our classroom, like we do with all of the artwork we create in workshop, but this time all of the kids were so proud of what they had done they wanted to take them home and show them off to friends and family.
Subscribe to our Blog
GVI on Instagram
Sorry:

- Instagram feed not found.
GVI on Facebook