First Impressions of the Seychelles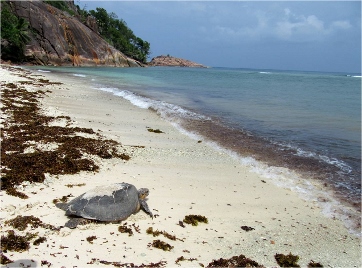 I arrived 5 days ago travelling from London Gatwick. Despite preparing for this trip for the last 3-5 months I've learnt that I'm one of those people who gets excited when booking the trip then doesn't feel like it's really happening until I'm being dropped off at the airport…
The first thing I have to say about arriving in the Seychelles is that the scenery is absolutely stunning, the tropical trees are such a beautiful green and the rocky, mountainous terrain that builds up towards the centre of the island makes for an incredible view. Now I'm really excited and I simply can't wait to arrive on base on Curieuse Island and explore my living quarters and the surrounding area that will be my home for the next 2 months.
Five days in and there has been no disappointments, the living quarters are basic but homey, the beach is on the doorstep, and what a beach! The colour of the water varies strongly from bright turquoise to bottle blue, to deep sapphire blue, and I'm not sure if it's my polarized sunglasses but it all seems to shimmer as if beneath the waves are thousands of tiny gemstones moving with the water.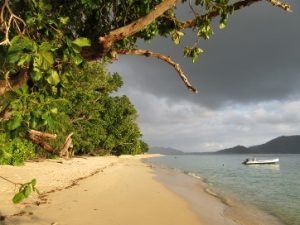 After 2 days of orientations and introductions day 3 is my very first turtle survey, an hour's hike along rocky paths, sections of boardwalk through mangroves, and around the headland thigh deep in the water we reached Grand Anse, the most popular turtle nesting site on Curieuse. We recorded several cases of activity or nesting over the course of the morning and early afternoon but the highlight of the day (if not possibly the whole trip!) was yet to come.
At around 1 o'clock Clare spotted a turtle emerging from the water to nest, we stepped back, settled down on a fallen tree to watch and couldn't believe it as she headed straight towards where we were sat. For the following hour or so we watched with front row seats as less than 2 meters away she made a body pit, dug out the egg chamber and laid 95 eggs, before covering them up and camouflaging the area. We took several measurements, and logged the nest before watching as she made her way back to sea. What an incredible experience!! I can't believe my luck in witnessing such an intimate process on my very first survey.
The next few weeks are sure to filled with many more first time experiences for me, I have already fallen in love with snorkeling and I can't wait to meet some Lemon Sharks! What a way to kick off my time here, roll on the next few weeks!