Fine dining has hit Cap Ternay!

DMT Intern Heather writes this week about the latest and greatest addition to our staff team – Giovani the Chef! 
Great cooking has come to the camp in the form of our new chef, Giovanni. Giovanni is a Seychelles national who has cooked in a variety of 5 star hotels, and more importantly, is very interested in marine conservation. He previously worked at Aldabra, and while he teaches us to cook food that others will actually enjoy and won't just fill their stomachs, he entertains us with stories like the first time he saw a dugong, or shows us what kind of fish he saw during his time on Aldabra.
He will be coming to live on base shortly (at the moment he makes the half hour walk to and from the bus stop every day, unless staff can drive him) and will dive with us and learn what we learn – identification, methodologies for survey, and general conservation skills, as well as making delicious food.
Before Giovanni, kitchen was a hectic duty – frantically arranging people to cook (mainly pasta or rice) while you were on a dive and then swapping over, trying to catch them up on what was being done whilst loading and unloading kit off or on the truck. It was often an all day duty, performed in dripping bathers, the end result often being unsatisfying due to all the chopping and changing and lack of coherence between group members. It also tested your bribery and flattery skills, as often people in other duty groups had to be roped in to help chop up vegetables. However! It has all changed in the form of Giovanni, who not only cooks wonderful Creole dishes, but is exceptionally generous and patient in teaching us to do the same. He also understands all the strange fruits and vegetables that us non-Seychellois are unfamiliar with, and in the words of some staff members are "afraid" of, and shows us how to find them and how to cook them.
It's not all good news though – his food is so good that people often eat until they are so full, and though many of us thought we'd lose weight living in the tropics, diving every day on a volunteer program, it looks as though Giovanni's amazing food will undo all the energy consumption lugging tanks brings us during the day!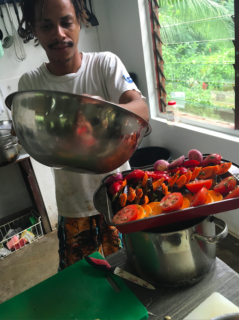 Testimonials from volunteers and staff:
"He's amazing"
"Godsend"
"I'm going to marry him"
"He is a man, he has many dreadlocks"
"Really good food, good friend"