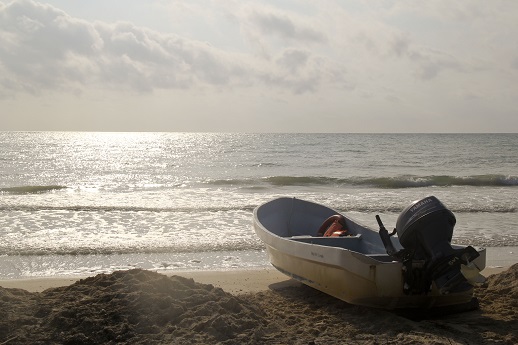 Once upon a time (about three months ago), in a land (Derby) far far away (from anywhere interesting), a little girl decided that she wanted to do something worthwhile, learn, and maybe even get tan. Luckily, her Fairy Googlemother was in town and showed her the wonders of the GVI website and everything they had to offer. After a few minutes of reading about the base and the conservation work that the staff and volunteers here do, she was sold on Pez Maya.
After two months of stocking up on sun cream, learning the names of some beautiful fish and  panicking about the difference between SMB's, DSMB's and other similar acronyms that mean something VERY DIFFERENT in Google, she was on her way. Arriving in Pez Maya was like stepping in to a travel guide. Not many people can say that they've lived in a jungle on a beach and been greeted by iguanas every morning at teeth brushing time. And my god those sunsets.
Day three at Pez, and it was time to get down to business. Scuba time. The Fairy Googlemother had enlisted her friend 'Matt the Patient' as instructor, and he took the little girl and her new friend Anna to Playa del Carmen for some intense pool diving practice. It was a rocky start, the little girl decided that humans aren't meant to be underwater, it's weird and she kept getting foot cramp. But Matt the Patient lived up to his name – and gave them regular, cheesey, bready snacks which helped a lot – so soon the little girl was ready for the Open Water.
So the next day, there she was, sat on the edge of a boat in shiny new gear ready to roll back into crystal clear, tropical waters. She was terrified. But then she was in, and could see 30 meters of coral reef and a rainbow of fish all around. Less than 48 hours later, with the PADI Open Water Course done and having seen massive Caribbean Rays up close, the fear was gone. She had found her Prince Charming – he was a tank of compressed air.
Since then, the little girl and her new friend completed their Advanced Open Waters without throwing a single temper tantrum, they've had a chance to get stuck in to base life and to explore the surrounding areas of Quintana Roo, including some damn impressive Mayan ruins. They also got to visit the nearby fishing town Punta Allen, as part of the GVI Community project, where they sang about the Macarena Shark with some very enthusiastic five year olds and saw Turtles. Meanwhile the rest of their new friends on base have been busy collecting coral data, clearing the beaches of the Sian Ka'an reserve and becoming qualified rescue divers.
I'd like to say that she lived happily ever after, but I can't. Not because of some freak snorkel accident or anything, just because she has 5 weeks left so this blog may have a part two. Fingers crossed for Sharks!