Everything is different... compared to Austria
By Karin Binder
3 years ago
I have been working for the same company – a bank in Austria – for 16 years. I decided to go on this trip because I wanted something different – a break from everyday life.
The travel arrangements were quite extensive; we had to pack a mosquito net, cutlery, towels, beddings and much more. It's also important to take enough chocolate with you, because there is not much available here and it's nothing like chocolate from home.
To prepare for our expedition efficiently GVI has sent us documents. For example we received a training manual containing information about sea turtles, birds and how to measure a special palm tree occurring only on the Seychelles Islands, the Coco de Mer.
Despite all careful preparations, you keep asking yourself whether you forgot something on the day of departure (hint: take more mosquito spray!). After a night on Mahe Island we all met in Beau Vallon on Saturday morning. From there we ferried to Praslin where we were picked up and taken on a small boat to Curieuse Island – our home for the next 1-3 months. Feeling curious, we got out of the boat and looked at our island – the staff house, the Bommie (living area) and the dorm. Many impressions: no flushing toilet, everybody is sleeping in the same room, a kitchen with an old gas stove, the fridge that only runs 4 hours per day because we rely on solar power…
In the first few days, various presentations are provided, so that we can assist in daily tasks as soon as possible. In between, we learnt how to open a coconut with a machete and how to bake bread from scratch. It takes a while until you can handle all these new things and then you start to enjoy the paradise and perceive it as such.
Every day while lying in our beds, we hear the sound of the sea, the wind blowing through the palm leaves and the rain pattering on the metal of the roof. Pure nature. We brush our teeth in front of the Dorm door. Every day there's a "bucket run" which means that everyone grabs a bucket, fills it with seawater and pours it into a big bucket – that's our toilet flush. After work is done we go swimming in the sea, which is just around the corner. Or we pet Obama – the Aldabra Giant Tortoise who lives among us in the camp because he likes it better here than at the ranger station.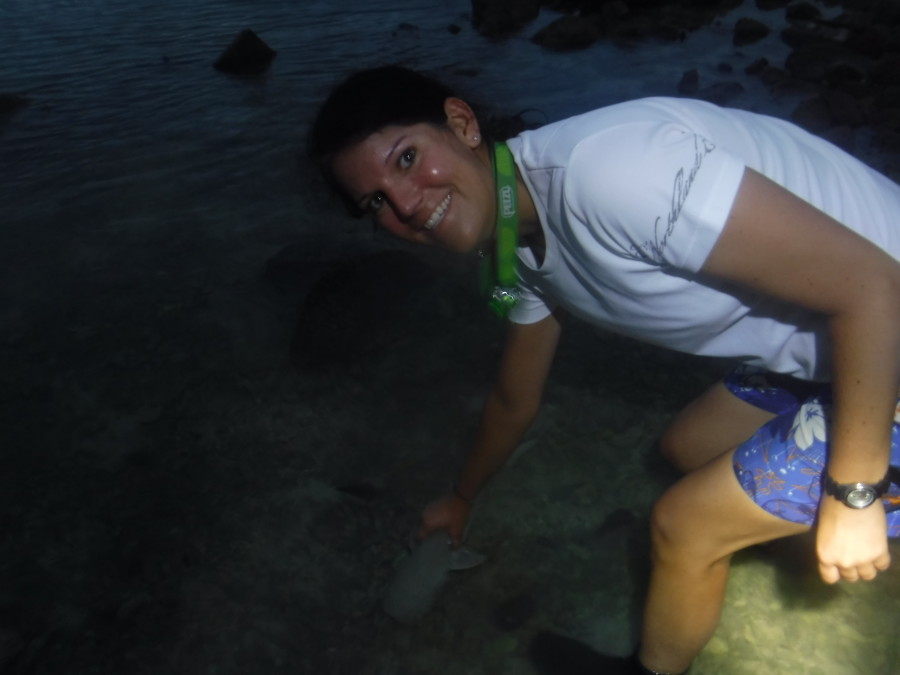 It's awesome when we catch Sicklefin Lemon shark pups to tag them with a micro-chip, measure and weigh them and then release them back into the ocean. I think none of us had ever held a shark in his or her hands before this trip. I was surprised that the skin does not feel slippery, but rather rough, like sandpaper.
Work can be very tough, especially when we have to make an overgrown path passable again just by using a machete. But in return we get to see incredibly beautiful "postcard beaches" which only a handful of tourists have discovered before.
In the evening, we sit together eating dinner and talk about all the events of the day. But of course it is important to plan for the weekend where we leave the island and race off to hotels to enjoy the temporary luxury of civilization.