Elephants in the Back Garden
Over the last few weeks, volunteers and staff alike have awoken to a big of surprise outside of their house on Karongwe. The elephant (
Loxodonta africana
) herd, who normal frequent the North, far from GVI's accommodation, has decided their new favourite spot are the Marula trees on GVI's driveway!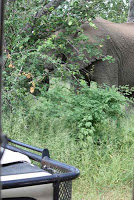 Quite silent for their size, sometimes we haven't even realised they had come, except for the large tree they pulled down or the huge, elephant-sized tracks in the garden. Rosie Miles, (Mountain Coordinator) and Andreas Fox (Limpopo Coordinator) have looked out their window numerous times in the night only to find the legs of elephants a metre away!
Ben Tupper (SANParks Coordinator) got a quite fright when he stepped out of his door early one morning to find Mr. M, one of the bulls, just opposite of his car! Volunteers either on their off-day or on base duty have enjoyed a nice cup of tea or coffee while watching the herd slowly mosey their way through the garden. Not something you get to do every day!
It hasn't been all fun and games though. Our elephant herd also likes to obtain water whenever they are thirsty, and they will go for the freshest and closest water to them, even that that means our water pipes! Thanks to Eco-Training and Nico Kritzinger (Research Assistant/Maintenance) the problems have been minor and quickly fixed. It still has to keep us on our toes though!
In the coming weeks we hope they continue to hang out Base, though preferably away from our pipes!!