Cinema x , City Mall and Tsavo East so many places to visit……
After a very enjoyable, but hard and challenging week in the classroom, the weekends just as a they are back home, are welcomed by all the volunteers.
Thankfully Mombasa and the surrounding areas offer a number of activities to do and places to go and see during periods of down time. I'm still amazed by the standards of the shops and facilities only a five minute bike ride (10 minutes tuk tuk )away from the GVI base , which is conveniently situated between City Mall and Cinema x Complex. Also we have local cafe and bars within walking distance .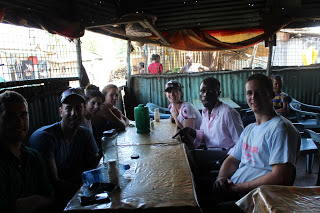 Fellow volunteers getting lunch in local village cafe.
City Mall offers a number of shops, cafés and restaurants and is one of my favourite places to go and treat myself to a yummy smoothie, while taking advantage of the free WI FI at one of the cafés.
Cinema x also has a number of shops and cafés, but is best known for its cinema, where I watchedy favourite ever 3D film "Life of Pi"
Off on Safari with fellow volunteers
My Favourite weekend so far as been the safari trip to Tsavo East, following recommendations from long term volunteers I booked a weekend trip along with three fellow volunteers. We were picked up early on the Saturday morning from the GVI base, and we then took 2 hours to reach the parks. Within minutes of entering the park I saw a group of elephants walking about 20 yards away from are van, this was my first ever experience of seeing animals in the wild and it was a very surreal one at that.
Within 30 minutes we came across two loins eating a buffalo. So within such a short time I had already seen two of the big 5…
The lodges we stayed in were amazing and had great views of a waterhole. The following day we did two more game drives and I added many more animals to my list .
The Lodge was amazing…..
 The trip was a success and also a great opportunity to get to know my fellow volunteers' better and definitely one of my highlights of my time in Kenya so far and one I will never forget!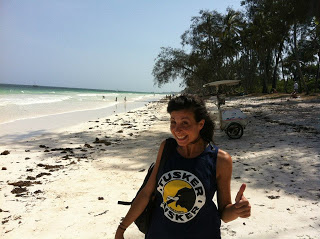 Volunteer Carla at the beach …..