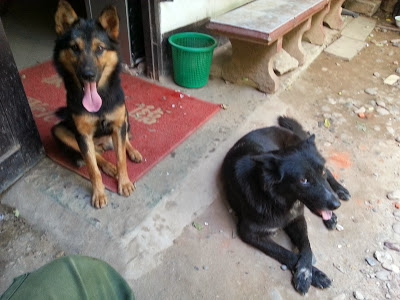 A dog's life here is very different to Australia. Most dogs are free to wander – none have a collar let alone name tag. At first sight they seem neglected as they wander around town, hanging out with their mates during the day or sleeping in the middle of the road, but in fact they are important as watch dogs at night. While you never see fat dogs, most clearly have a home and enough to eat. 
Dogs are just part of the scene. The other night, I was teaching at MEC, when a dog pushed open the classroom door and walked – well almost swaggered –  in. He wandered around checking all the students out – they ignored him. Eventually he curled up on the floor for a snooze before making his way out again, leaving a muddy patch on the floor.
There are two dogs at Xayadeth College where we teach and do lesson planning. Mi Phu and her one year old daughter, Pepsi. Mi Phu is wary of outsiders, particularly men, but Pepsi loves all the volunteers as she has been spoiled by many. Pepsi frequently joins in our activities – she is the most 'western' dog I've seen. But Mi Phu asserts her dominance and has prime position sleeping on a mat in the doorway. No one moves her out of the way and everyone just steps over her! You can almost hear her saying – "I'm the boss, deal with it!"
– This blog was written by Gretel from Australia who is volunteering on the project with her husband for 4
weeks.