You Are The Difference! No, Really, you are!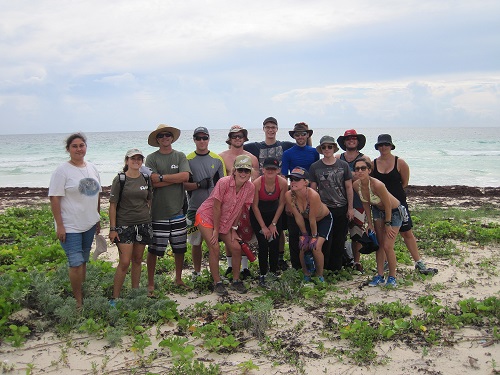 It is very common in conservation to feel like you are powerless against a rising tide of problems. We all have moments now and then when we doubt the difference that we could possibly be making. Even on our conservation base in the Yucatán, where we actively pursue conservation outcomes and participate in research on a daily basis, we sometimes struggle to see the difference we are making.
We don´t like to brag, humble as we are, and so we sometimes don´t realise the impact that we have. Every person who joins us here, either for a short or long time, makes a massive contribution to environmental protection and conservation. They make a difference in the continued protections of coral reefs world wide, by helping us establish baseline data for our partners to use to pursue better environmental policy on a national and international scale. Our Coral Watch, Shark, Marine Mammal and beach clean data contribute to world wide databases, data that scientists activists and politicians worldwide use to push for greater understanding, research, preservation, and protection of the natural world.
Our volunteers make a difference by patrolling our beaches and collecting data that leads to greater protection for sea turtles here and as part of a global movement for turtle conservation. They make a difference by getting in and doing the hard yards, heavy lifting, and awesome diving, so that our local partners can make informed conservation decisions for their valued local environment. They make a difference in the lives of local children and adults who are pursuing education that will better inform them of ecological issues relevant to them, and help them to feel empowered to participate in environmental protection locally and in the wider world.
GVI volunteers build international friendships and partnerships and networks that grow the global conservation movement. They learn a new way of life, one that, even if they don´t realise it yet, will inform their future personal decisions, and make them more environmentally and socially aware world citizens.
For some, the knowledge that they take home will lead to a lifelong career in environmental science, communication, ecology, policy, and conservation. For others, it will be the start of a new attitude in their small daily tasks: letting yellow mellow, sorting their recycling, turning off lights, signing petitions, and bullying their friends to say ´no´ to straws at the bar. They will go home and talk about the magic of baby sea turtles over dinner, they will pick up cigarette butts that aren´t their own when the leave after a nice relaxing day at the beach. Their behaviour and their knowledge will influence the lives of those around them.
I won´t repeat them here, but please check out our twitter and news letters for the ´cold hard facts´. Our stats track the difference we make in numbers, and show our commitment to transparent and serious research, time, teaching and learning. Some days it will seem a momentous achievement, others it will feel like a drop in the sea of indifference. If you ever forget the impact you can make, think of the mosquitoes here in the jungle, and the huge difference that a tiny creature can make, both on its own and in swarms.
So, if you are thinking of joining a GVI project, either here at Pez Maya, or somewhere else in the world, do it! Small acts of individuals scale up- it is a life changing experience, and your contribution is world changing. If you´ve ever joined us here before, in case you´ve forgotten how much what you have done means:
THANK YOU! THANK YOU! THANK YOU!
You are part of a growing world wide community of projects and partner organisations working for good in the world. As part of the GVI community world wide, we all make a massive contribution to making the world a better place for present and future generations of life on earth. Never doubt your power. You are and always will be the difference.