Development of School & Volunteer Resources
By Michele Comber - Project Manager
4 years ago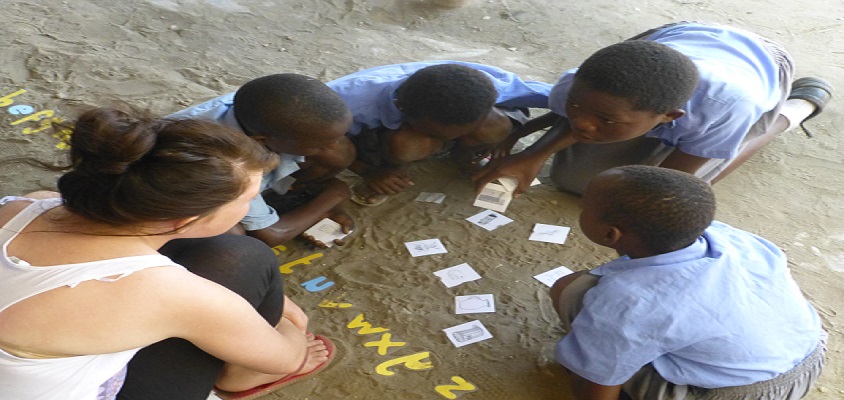 With volunteers teaching periods of 2 weeks to 6 months, there is a great need for quality control and consistency in used teaching methodology. Furthermore methodology books and other learning resources in Kenya are hard to come by and existing materials are often not suited to local students needs or specifics situations. Especially literacy programs require child-specific approaches.
Over the course of a year, with input from volunteers, experienced GVI teaching staff has produced a comprehensive range of lesson materials and packages. The materials are designed for use in a dynamic teaching environment and adapted to the Kenyan curriculum. The range consists of complete folders containing class overviews, accessible monthly and yearly curriculum checklists, as well as guides for volunteer teachers on programs and how to find the most success in a classroom.
The volunteer teacher-training package saw upgrades this year with an additional section on TEFL (Teaching English as a Foreign Language), specific strategies that have already proven useful in the Mombasa classrooms. GVI programme leaders provide bi-weekly workshops on teaching reading, writing and composition and there is room for group based input on lesson-plans to keep ideas fresh and to raise the level of teaching overall. In the living room of the volunteer base, the 'Resource Wall' shows 12 colorful posters with lesson ideas on each topic; reading, writing and lesson-games. In the bi-weekly workshops posters are highlighted drawing volunteer teacher attention to the available resources. Much positive feedback has come from volunteer teachers on the workshops and the use of the posters and accompanying lesson templates.
Good examples of renewed methodologies are the way literacy and English writing classes are handled. Previously group-reading classes could be arduous for both students and teachers, simply picking up the story from a book where it was left last week and working their way trough as many pages as reasonable. Now, under a new name 'literacy groups', classes are focused on the love of literacy, not only reading stories but also acting them out and drawing them, which much increases students motivation to read and learn.
Writing classes were centered on composition. Starting-off point for most composition was an 'idea' for a story to be written. 'Ideas' often proved too much of an abstract concept for students to grasp but also for volunteer teachers to teach. Moving forward, English writing classes now cover the 'process of writing'. On a five-week rotational basis volunteer teachers cover Ideas, Prewriting, Writing, Revision, Skill Building. Each part has its specific resource binder containing lesson objectives and ideas.
With 40% of the final mark on the Kenyan Certified Primary Exam consisting of the ability to write compositions good teaching of English writing skills is of the utmost importance. Great successes in the changes made to the Education resources is already visible and much positive feedback has come from volunteers teachers as well as local teachers.